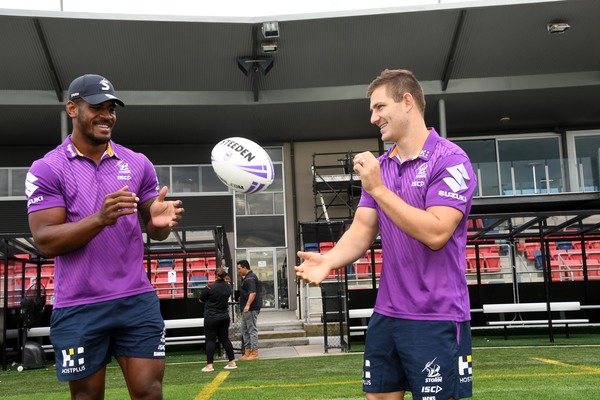 By Nick Creely
The Melbourne Storm is expected to field an almost full-strength side when it ventures out to Casey Fields for its final pre-season trial match on Saturday evening.
The NRL powerhouse is coming off a strong trial match win against the Warriors 18-16 on Saturday, 22 February and will be looking to really ramp it up when it plays host to the North Queensland Cowboys in what is going to be a festival of rugby league at the major sporting precinct in Cranbourne, which will also serve as a fundraiser for the Victorian Bushfire Disaster Appeal.
Storm star Ryley Jacks said after a successful trial against the Warriors – in which the club used an opportunity to get a good look at some youngsters – Saturday's final trial will be the last dress rehearsal before an opening round clash in Sydney against Manly-Warringah on Sunday, 15 March.
"It was an awesome win over there (against the Warriors) – we had a really young group, so it was a good challenge for me and a couple of the other guys to lead, so I found that really fun and challenging," he said.
"I think we did better than we probably thought, especially with that young group, we got a lot out of it.
"(But this Saturday) there will be a lot of older fellas, and it'll be the last dress rehearsal before the season proper, so I think Craig (Bellamy) will want to put out as close to that Round 1 team as we can."
Jacks said the opportunity to come out and play at Casey Fields, and bring the game to the suburbs, was something that Storm really prided itself on as an organisation.
"It's exciting coming out here to play, a lot of the locals will come out and get around it," he said.
"The field is looking unreal, so you'd be happy to get tackled on it. It's lush, so all the fellas are really looking forward to getting out here.
"I think it's an unreal thing that we can do – we went to Geelong last year so I'm stoked to be part of this one in Casey.
"You've got people out of the city that can't really make it to our games at AAMI Park so it's an awesome opportunity to drive down the road and not sit in the traffic.
"It's an awesome opportunity to come out here – we don't do this much, so it's a great chance to watch our team, and a lot of big names are playing live."
Teammate Tui Kamikamica also urged the community to come along and catch some of the NRL's biggest names in action, and said that both sides would be going full tilt.
"I'm really looking forward to this trial game just to get the body right for the year – I didn't get to play last week, so I'm itching to get back out there on the field and play some footy again," he said.
"This is our last game before heading into the season – we're going to be having a big week.
"It looks fast, it'll be good to get out here on this awesome field on Saturday afternoon.
"It's been a long pre-season, so I'm really looking forward to getting out there and playing some footy."
Kamikamica said it was the perfect opportunity for both the Storm and the local community to come together on what is sure to be a huge day, with the crowd expected to be between 6000 and 7000 people.
"It's a good thing to bring the trial game out of Melbourne – its great for the little kids to see their favourite NRL players play in their home town," he said.
"It's great for the community as well – if I was a little kid out there watching the game it'd put a smile on my face, so on Saturday it's a win-win situation for me and all the supporters in the community."
Aside from the NRL clash, which will kick off at 5.30pm on the Casey Fields main football ground, many of the top talents in the NRL Victoria competition will be showcased in a Nines competition to be run as part of the day.
The Storm Harmony Nines will feature 12 teams – six men's and six women's – who will play a round-robin nine-a-side tournament to decide the finalists, who will then get the privilege of playing the curtain raiser to the showdown between the Storm and the Cowboys.
Local teams such as the Casey Warriors and Doveton Steelers will take part in the tournament, with teams from all across Melbourne set to battle it out.
The 18 preliminary matches will be held on two fields with the action getting underway at 9am. Admission to those matches will be free of charge.
Storm CEO Dave Donaghy urged the local community to get down to Casey Fields and show their support on the day, where a host of activities for all ages will be available.
"In partnership with City of Casey, February 29 will a day of celebration of rugby league in Victoria and the roles Storm and NRL Victoria are playing in developing the game here," he said.
"I'd encourage all local league fans to check out the local talent at the Nines and the fun family friendly activities we have planned at the Casey Fields playground area, before watching what is sure to be an outstanding NRL trial."
The NRL pre-season trial clash will be the first time the Storm has played a match of any sort in the south east of Melbourne, with all previous home pre-season trials always being played at AAMI Park, in Geelong or interstate.
The club has also signed a two-year deal to play another pre-season game at Casey Fields, meaning the Storm will also front up in 2021, however the opposition is yet to be determined.
Big discounts are available for Storm 2020 members. Junior members will be admitted free of charge, with adult member tickets just $10.
Casey Fields memberships are now available for $30 (adults) and $10 (juniors), which includes entry to the trial as well as one NRL home game at AAMI Park during the regular season. General admission prices for non-members for the Casey trial are $20 for adults and $5 for juniors.