By Nick Creely
Ashley Chandrasinghe won't be forgetting Saturday's golden day in a hurry.
The rising 18-year-old Swan not only became the latest player to make his first XI debut for Casey-South Melbourne, but in the process, produced one of the finest performances of the season, notching up an incredible century against the highly-rated Northcote.
It's been an incredible few weeks for the talented leftie, who starred for the Southern Pioneers in the Youth Premier League under 18s, whacking 206 runs at an average of 206.
But few would have seen his performance on Saturday coming when he answered the call to open up alongside Luke Wells in the absence of gun batsman Nathan Freitag (attending a wedding).
Chandrasinghe showed poise, incredible patience and unflappable concentration to bat from ball one of the day until the second last over, producing an epic 144 off 286 balls, all in which came within 378 minutes. Few would have notched up a century on debut in such impressive fashion, and few have looked so comfortable so quickly.
But the innings was exactly what the youngster prides himself on at the crease – wearing the bowlers down, never wavering from his strengths and eventually pouncing on the opposition, regardless of who they are, or where.
But it's rare that an opener at such a high level can sustain such concentration at the crease, and especially in his teenage years in the top-flight of Victorian club cricket.
And Swans coach Brian Keogh could hardly contain his excitement on Sunday, and after watching stacks of cricket over the journey, believes it was one of the most memorable knocks he's witnessed.
"It's right up there – for Ash to come out to do that was incredible," he said.
"And to be fair the Northcote attack are great, they're fourth on the ladder for a reason.
"That's a genuine 144 against a top-eight side – the Northcote guys have a real presence about them, just watching them in the warm up you can tell they're fourth.
"Nobody gifted Ash those runs – it was an outstanding innings, but I don't want to put too much pressure on him, I want him to enjoy the moment and enjoy the journey.
"But it's really exciting for us – the season has been pretty frustrating, but to have this is really great."
Keogh said that the selectors have been discussing the youngster for some time, and were pleased to be able to give him a chance in the red-ball clash.
"We talked a lot as a selection group about when to bring him in, and we just felt the two-day game at home in good conditions at Casey would be good," he said.
"I was confident he'd do well, but I certainly didn't expect 144 off 280 rocks – it was like he's been out there for five seasons, he just looked so comfortable, he's got a terrific temperament, never gets distracted and just plays each ball on its merits.
"He stays in the moment, and knows his game well – that's the really exciting part, he's got all the foundations but he's got more tricks in his bag."
Only last week, the humble Chandrasinghe told Star News Group about his approach in the middle, something that clearly held him in good stead on the weekend.
"It's about ball-by-ball concentration, and just trusting my technique and allowing myself to get in and stay there for as long as I can," he said.
"If you stay in there, you'll make runs, and that's my mindset when I'm batting.
"I've been taught that if nothing's going right for you on the day, that technique is something you can always fall back on, so I try and focus on that a lot."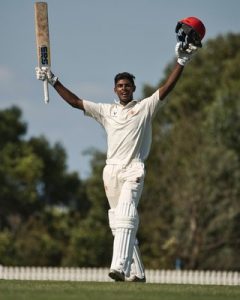 An opportunity for Chandrasinghe to bat with Swans skipper Luke Wells (35) – who combined for 59 with the youngster – was another really pleasing part of the day for Keogh, who said that the influence of the skipper on his young star was crucial.
"The opportunity to bat with Wellsy certainly wasn't lost on us, and that was always the plan," he said.
"Wellsy looked like he was going to be in for a big one, he was going really well but got out, but he took the pressure off Ash, and the two make a really exciting dynamic for us."
The Swans racked up 9/332 by stumps, only a week after a disappointing result against Monash Tigers.
After a strong first session which the Swans lost just one wicket with Chandrasinghe and Aaron Fernando (24) looking set, the home side lost a clump of wickets through the middle to be in a spot of bother.
But the Swans recovered, showcasing its strong depth with the bat – particularly with the red-ball – to post the highest score across the competition for the day.
"It was really good – we were disappointed with last week, but overall we've been disappointed this season," Keogh said.
"We went in with high aspirations of this season, and for a variety of reasons it hasn't gone our way, but we made a strong pact to finish the season well, and fight really hard.
"It was a really good day."
Another strong performance on the day was that of keeper batsman Devin Pollock, who crunched 80 after coming in at 5/168 and putting on 157 runs with Chandrasinghe, in a partnership that saw the Swans lift itself into a dominant position.
"We went into the game with a theme around mateship, and nobody epitomises that more than Dev," Keogh said.
"He just had different gears, and for him to go in at 5/160 and with game evenly poised, and just came out and batted with Ash, rotated the strike, and in the last 15, 16 overs really got going.
"He played some fantastic pull-shots, and his 80 took us from a score of 260, 270 to 330. His role in that was really significant, and full of mature."
After a tough trot earlier in the season, Pollock has now passed 300 runs for the season, and has played some crucial hands through the middle order in recent weeks after starting the season as an opener.
"Five, six, seven feels right for Dev because of his ability to close out the innings," Keogh said.
"I personally, and the club feels the same, believe that he has another level in him – his glovework is excellent, and he's a great club person.
"We're really hopefully at some stage he'll get a Futures game – we think he'd handle himself well at the next level."
But the challenge now awaits the Swans' bowling group, who will be looking to defend its hefty total when play resumes on Saturday.
Keogh said that the challenge would be to keep the pressure on the Dragons all day, and to collectively lift as a group in the field.
"One of the things we need to do as a fielding group is support our bowlers," he said.
"We've had our moments and hopefully we'll have a good day in the field – Casey is a good batting track, so we need to bowl as many maidens as we can, put the pressure on and take our opportunities.
"We have great respect for Northcote, so we know it'll be a really good day of cricket that'll probably go down the last hour – it'll be interesting viewing."