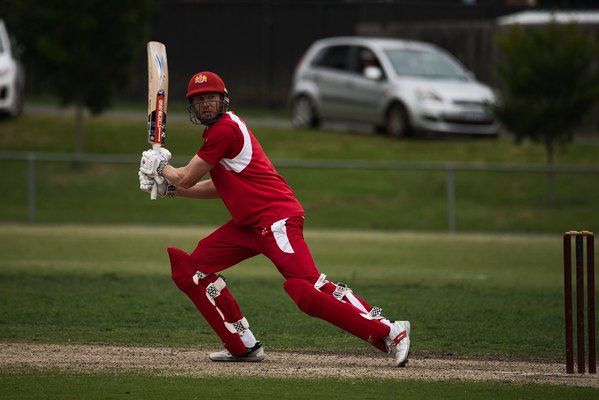 By Nick Creely
There was always inevitability about it. Luke Wells and game-breaking centuries just simply go hand-in-hand.
When the left-handed overseas pro strolled to the Schramms Reserve deck for Casey-South Melbourne on Sunday against Fitzroy Doncaster with 66 runs under his belt in his first five digs, there was always going to be a response.
There simply had to be. Not only for his team who were desperately trying to make up ground after a lacklustre start, but for his own game.
A player with that much class simply can't be contained for too long, as seen by his 18 first class hundreds.
But against a Lions attack still finding its feet at the level, Wells – and his vice-captain Nathan Freitag feasted off the fine work down by the Swans' bowlers earlier in the day to draw just a game outside of the top-eight.
"I'm super proud of the guys and I feel we deserved this win for sure," Wells told Star News Group.
"It's been a tough start to the season for one reason or another with the weather and a few poor performances as well as losing some tight games in the Slam.
"I'm so chuffed for all the boys with this win, everyone is up and about again and hopefully we can find some consistency now going forward."
After Wells sent the Lions in to bat on its own home deck – a wicket that appeared slow – openers Jack Rudd (60) and Zach Elliott (66) looked incredibly comfortable, notching up 114 for the first wicket and setting the scene for a potential score of 250-plus.
But after a patient knock filled with some excellent stroke play, Elliott fell, handing medium-pacer Dylan Hadfield (1/28) the opening wicket, before the Swans began to assert themselves with a pressure-filled hour of cricket.
Snagging fellow opener Jack Rudd not long after, the Swans – through spearhead Nathan Lambden (2/46), much-improved seamer James Maxwell (3/50), and the reliable Josh Dowling (2/34), wore the Lions' middle order down, in an impressive turnaround that saw the home side scramble to 8/220 after a six off the final ball of the innings by Harrison Goad.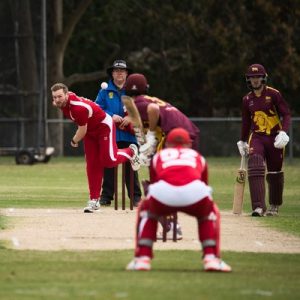 Wells himself was also vital, turning in 0/32 off 10 overs with his spin through the middle overs.
The Swans kept things steady in reply, with Luke Wells and Devin Pollock not taking any unnecessary risks, but the Lions eventually prized out Pollock for 20 after the pair knocked around 58 for the first wicket.
But there wasn't much else to smile about for the Lions.
Wells – with vice-captain Nathan Freitag – oozed class in a brilliant 160-run partnership, firstly consolidating and setting up the chase, before flaying the ball to the boundary at an alarming rate.
The skipper in particular, held the key, and from 37 off 67 deliveries, switched to a gear not many can in the competition, sending the ball flying over the ropes to the small boundaries off the spinners to reach another golden ton – his fifth at the club from just 18 first XI innings. His century came from two massive sixes, in an innings that featured eight in total.
Unluckily for Freitag, who notched up a second-consecutive half-century, he chopped on with just two runs to win for a brilliant 70, while Wells remained unbeaten on 115 off 130 balls as his side cruised to an eight-wicket win with seven overs to spare.
Wells praised the bowling group for being able to set the game up for the batters, and said it was important to make the most of the conditions and put the plans into fruition.
"I was very pleased with how we were able to drag them back from their initial base. We bowled poorly from about overs five to 20 but then we dragged it back well with some clearer plans on a slow wicket, such as bowling nice and straight with lots of slower balls," he said.
"I also thought we defended the short boundary a lot better than they and they were never really able to take advantage of it like we were."
After the Lions set the Swans a modest chase, Wells said the plan was simple enough: time in the middle.
"The plan was just to bat 50 overs. I told the guys that I couldn't care less what's happened so far this season, what happened last season or what will happen next week, we bat 50 overs we win," he said.
"I thought Tag (Nathan Freitag) batted exceptionally well. It wasn't an easy pitch to start on at all and he came on when (Jack) Rudd was bowling some tidy off spin against a slightly softer ball so it was hard to score.
"He used up some balls and was under a bit of pressure but he's an experienced and quality player so it was clear he never doubted himself and hopefully that's a huge learner for the whole batting group moving forward. Give yourself a chance, get yourself in and when you can, be ruthless and go big."
From a personal point of view, Wells said it was an important century for his own game, and was pleased to be able to lead from the front as club captain.
"Yeah the season so far out here has been horrid to be honest," he said.
"I can't believe the weather we've had, definitely the worst I've ever experienced in Australia. Obviously it was a frustration to have a couple of visa issues too and miss the first two games.
"I wanted to start strongly from a personal point of view and a club perspective and I knew the biggest challenge this season would be managing expectations after having such a great year last year.
"Having got a few low scores I was relieved more than anything to get the match winning score and I'm just so chuffed for the guys. The game is so much more enjoyable when you're winning."
The Swans will get a big chance to put pressure on the top-eight when they venture out to the Junction Oval to take on St Kilda in a two-day game starting on Saturday.