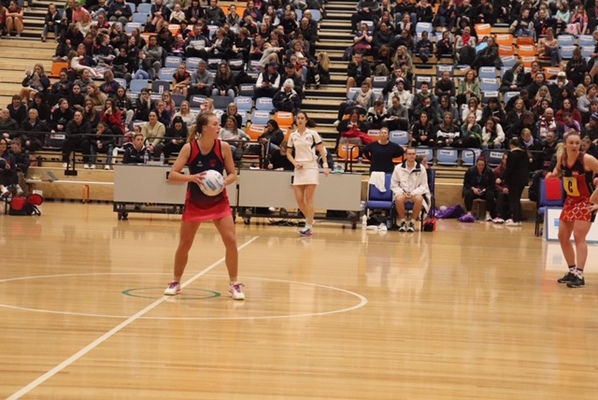 By Hayley Wildes
In the most important game of the season thus far, the Casey Demons once again showed the VNL world that they mean business. To say the Wednesday night match-up against the Southern Saints was a season-defining clash would be an understatement.
Both teams headed into the round – the third last of the season – boasting 8-7 records, with the Saints owning fourth position and the Demons sitting fifth.
It was all on the line; the winner would jump a game clear in the all-important race for the fourth and final spot in the post-season. With the game being played at Casey Stadium – in front of a raucous crowd – the Demons' defence rose to new heights and the Saints couldnt find the necessary answers on offence.
It was a total team effort from start to finish by Casey. Despite only leading by one-point at the first break, 16-15, they had clearly set the tone for what was to come by allowing the Saints just 15 shots for the quarter, compared to 20 by the Demons.
Casey's defensive grit and mid-court determination continued to force Southern into turnovers and it was during the second and third quarters that the Demons really made their move.
Over the middle two quarters, Casey out-scored Southern 36-22 as they held the Saints to just 27 shots, compared to their 41. Kassidy Withers, Shannon Blackman and Christie Hillberg were everywhere as the Demons put plenty of scoreboard pressure on with Emma Ryde and Erin Bell shooting above 80% in each quarter.
Boasting a 13-point lead, 50-37, with a quarter to play, Casey kept the pressure on and ran out with an impressive and vitally important 12-point win, 60-48.
The Demons have really hit their straps at the right time of the year and now they find themselves inside the top four and currently riding a league-best five-game winning streak. When the questions have been asked of the Demons throughout their inaugural VNL season, they've answered them each and every time.
Now with just two games remaining in the regular season, the Demons have to keep producing that manic pressure, because the Saints will continue to push and remain within striking distance.
Next week the Demons take on eighth-placed Peninsula, while the Saints battle sixth-placed Melbourne University. A Casey win and Southern loss would see the Demons officially book their ticket to the finals.