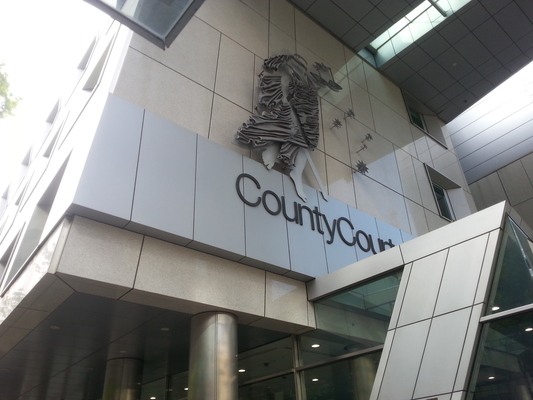 By Brendan Rees
A South East man who ran over a police officer in a stolen car and remained on the run for nearly two weeks has been jailed.
Justin Evelyn's rampage included a number of burglaries, car thefts, and leading police on wild speed chases while on bail.
The 37-year-old of Cranbourne pleaded guilty in the Victorian County Court sitting in Melbourne on 3 July to 44 charges, including conduct endangering persons, dangerous driving while pursued by police, criminal damage, and resisting an emergency worker.
Evelyn's crime spree began when he stole a Hyundai Excel from the Seaford railway station carpark on 1 November, 2017, Judge Paul Higham said.
He was bailed at Frankston Magistrates' Court on 6 November, 2017, to undergo a court integrated services program but the next day the court heard Evelyn drove his car at high speed as police tried to intercept him.
That morning he burgled a cafe in Carrum Downs and broke into neighbouring storage units taking "anything of value," Judge Higham said.
The court was told Evelyn rammed two police cars after being spotted in a stolen a BMW SUV at a McDonald's car park in the South East during the early hours of 10 November, 2017.
An officer had attempted to remove the keys from the BMW, however Evelyn reversed into a police SUV – causing a police officer's leg to be "dragged under the vehicle" – before smashing into another police car two metres away and speeding off, Judge Higham said.
Judge Higham said the incident had a profound impact on the injured officer who suffered anxiety, panic attacks, and trouble sleeping.
"He is currently seeing a psychologist in an attempt to deal with the trauma," Judge Higham said.
The same day at 2.08pm Judge Higham said Evelyn led police in a chase while driving an unregistered Commodore in Tooradin, and again two days later where he reached speeds of 180km/h in Cribb Point and drove into oncoming traffic on the Western Port Highway.
Using a stolen ute Eyelyn led police in another wild pursuit in Mornington on 13 November, 2017, while under the influence of methamphetamine.
He rammed into a police car, and later crashed into a car before speeding off and abandoning the car at a shopping centre.
Evelyn resisted arrest at the centre, forcing police to use capsicum spray, Judge Higham said.
During a search of the ute, police found an extendable baton, a metal pole with a rubber handle, a knife, and two screwdrivers.
Judge Higham told Evelyn suffered a difficult childhood where he witnessed domestic violence with his parents who separated when he was aged eight.
He remained out of trouble from 2005 to 2013 but a relationship breakdown with his partner sent him "into a spiral of drug use."
However, in sentencing Judge Higham described Evelyn's conduct as "utterly lawless".
"You demonstrated a callous and brazen disregard for the safety of other road users and for the safety of police officers," Judge Higham said.
"A firm message will go from this court to deter anyone contemplating such behaviour," he said.
He was jailed for five years, nine months with a non-parole period of four years, six months.