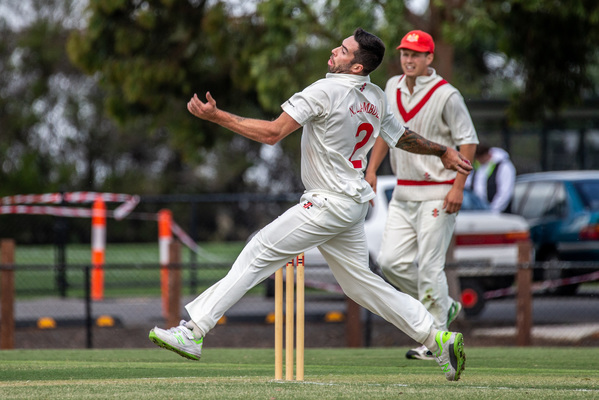 By Nick Creely
Highly respected cricket coach Brian Keogh is back at Casey-South Melbourne, after the Swans announced on Thursday that he will be returning to the top job for three years.
After leading the Swans to a shock finals appearance in 2016/17, and being lauded inside and outside of the club for the way he manages players and gets the very best out of them, 'BK' was forced to resign at the end of that season due to work commitments.
Known for his supreme communication skills and passion for the game, it was a bitter blow at the time for a club that was riding a wave of momentum after clawing from 15th to 6th on the table in the matter of a year.
After speculation that Keogh would come back to the club after a one-year stint with Prabath Nissanka as head coach, work once again meant that the highly respected former player couldn't commit fully to cricket.
But, not this time. Keogh is back after what has been an extremely encouraging season for the Swans, putting pen to paper on a three year deal which will almost certainly give him plenty of time to continue developing a list that flourished under his watch.
Keogh told Star News Group that there's a little bit of unfinished business, and can't wait to get back "home"
"There was only ever one club I wanted to go back to, I always felt like I was going to go back eventually," he said.
"But they are really privileged positions, and when you do walk away, you always have uncertainty about whether you can come back or not."
Keogh said negotiations happened pretty quickly, and once he knew he had the time to once again commit to the job, he didn't hesitate in saying yes.
"I watched a fair bit (this season), and have kept a pretty keen eye on the boys," he said.
"(The discussions) started not that long ago – It got me interested, so it was a no brainer for me at all."
Keogh said he doesn't want to change much of what's already been built at Casey Fields, and hopes the club can continue to be as inclusive as it can be to the community. He simply wants to pick up where he left off.
"What's important is the infrastructure around the club – there's a lot of people doing a lot of work," he said.
"I want to build this community part of the club – in a lot of regards its been built, and the support we get from parents, grandparents, and the local community has been great. I want to come in and be as inclusive as I can, and we can continue to do more.
"I want to also keep building our relationship with the Cranbourne Cricket Club, the Gippsland region and the DDCA.
"Hopefully I can lead it, and have some fun."
In terms of the on-field, Keogh said the club will be very careful with who they bring in, looking at people who can "buy-in" to the culture and help improve a list that is continue to mature with every season.
"We need to be really careful – we've got guys now with 50, 60 games at first XI level, and that's sort of the time where you belong or you sort of don't," he said.
"We brought these guys together maybe four years ago when I first started, and they've got some momentum.
"So we have to be selective about who we bring into the club – they have to fit in, and buy into the whole club."
Casey-South Melbourne cricket operations manager Craig Lambden said the whole club was "ecstatic" at bringing the loved figure back to Casey Fields.
"We're absolutely over the moon," he said.
"He just gives the players belief, and he's just a people's person.
"(Brian) just knows the game, he knows who to push, and who not to push, and understands the value of team.
"He's just got a great cricket brain."
He will almost certainly be joined by Sussex sensation Luke Wells next season, with the opener who crashed 882 runs keen for another season in Australia.
"We're pretty close with Luke, we've just got a few more things to work out," Lambden said.
"But Luke's partner Marion didn't want to leave (Australia), they absolutely loved it here, so we expect them to come back."
With the Swans in talks with several recruits, all but locking Wells in for another season, and re-signing highly skilled bowling coach Prabath Nissanka to a new deal, Lambden said the club expects to finish "top-six".
"We'll be scary next season," he said.
Lambden also confirmed that Nick Jewell has departed from the club after one year as coach.