CRANBOURNE'S government schools have received funds to buy new computers. The State Government funding aims to allow the schools to buy at least two new...
By Callan Date A CAR passenger had his arm severed below the shoulder in a horrific crash in Cranbourne West on Saturday night. Police said a...
A CRANBOURNE woman has been selected as an Australian delegate in a world youth program that will see her shipped around the world. Eloise Brown...
POLICE are urging people to watch out for their belongings after a purse was stolen last week. The purse was left on a seat at...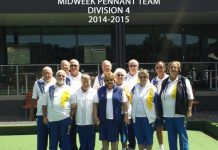 CRANBOURNE RSL BOWLS IN THE first midweek pennant final Cranbourne RSL easily defeated Burden Park at home to progress to the grand final against the...