By Alison Noonan CASEY Council has scrapped its plans to construct a skate park at Kilberry Boulevard in Hampton Park. Locals had objected to the proposal...
THE multi-million dollar Casey Fields has been applauded for setting new global standards as Australia's first fully sustainable sports facility. The $30 million facility in...
POLICE are searching for a man who exposed himself in the Barbie aisle at Kmart Cranbourne last week. Police said the man confronted a nine-year-old...
CASEY residents wanting to make the City greener can apply for a conservation grant. Local residents and community groups keen to run a project that...
- Sarah SchwagerMORE than 1000 visitors streamed through the Cranbourne Police Station on Sunday to check out the flash new building. Police were very impressed...
MORE first homebuyers are settling in Cranbourne than any other region in Victoria bar one. State Treasurer John Brumby this week released new housing figures...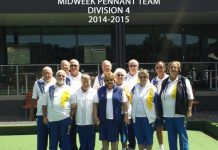 CRANBOURNE RSL BOWLS IN THE first midweek pennant final Cranbourne RSL easily defeated Burden Park at home to progress to the grand final against the...