BURGLARS broke into and ransacked a Lynbrook house on Saturday while the occupants were sleeping. Cranbourne police said at least two offenders broke into a...
CRANBOURNE South Primary School celebrated its 50th birthday last Friday with performances, balloons, a cake, a circus and plenty of cheering. Birthday celebrations included a...
By Sarah Schwager CASEY councillor Rob Wilson will fly to New Zealand in June to speak at an international conference on behalf of council. Last week,...
APPLICANTS for a controversial egg farm in Tooradin have taken their case to the Victorian Civil and Administrative Tribunal (VCAT). In June, council refused to...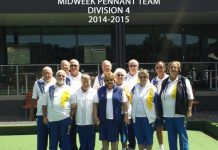 CRANBOURNE RSL BOWLS IN THE first midweek pennant final Cranbourne RSL easily defeated Burden Park at home to progress to the grand final against the...