By Sarah Schwager CASEY councillor Rob Wilson will fly to New Zealand in June to speak at an international conference on behalf of council. Last week,...
APPLICANTS for a controversial egg farm in Tooradin have taken their case to the Victorian Civil and Administrative Tribunal (VCAT). In June, council refused to...
WHO would have thought working with glass could be so much fun? Teenagers at Cranbourne Youth Information Centre discovered the fun of glass art during...
A MAN was robbed outside a Berwick ATM last Thursday only moments after withdrawing his money. The attack occurred about 5.30pm after the Berwick resident...
THREE old shovels and a wheelbarrow have mysteriously gone missing from a house in Cranbourne. The garden items were stolen from a garden shed outside...
ST PETER'S College will host its first 10-year reunion next week. The Cranbourne college opened in 1994, with the first group of year 12s graduating...
By Sarah Schwager FISHING hooks and sinkers were the talk of the town in Tooradin on Saturday. Fishing and footy celebrity Rex Hunt joined Premier Steve...
NEW Holdens were damaged at a caryard in Cranbourne last week. At least seven vehicles were damaged at Cranbourne Holden on the South Gippsland Highway...
CRANBOURNE South photographer and Chisholm art student Sylvia Riley-King is still smiling after winning an art prize at a recent exhibition. Ms Riley-King won...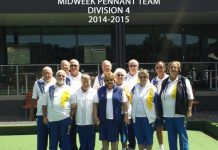 CRANBOURNE RSL BOWLS IN THE first midweek pennant final Cranbourne RSL easily defeated Burden Park at home to progress to the grand final against the...