CRANBOURNE'S government schools have received funds to buy new computers. The State Government funding aims to allow the schools to buy at least two new...
By Callan Date A CAR passenger had his arm severed below the shoulder in a horrific crash in Cranbourne West on Saturday night. Police said a...
A CRANBOURNE woman has been selected as an Australian delegate in a world youth program that will see her shipped around the world. Eloise Brown...
POLICE are urging people to watch out for their belongings after a purse was stolen last week. The purse was left on a seat at...
CRANBOURNE MP Jude Perera looks set to defend his seat at this year's State Election after blitzing the Labor Party's weekend preselection. Mr Perera said...
By Sarah SchwagerCASEY could be home to a large regional skate and BMX park to help cater for the growing number of enthusiasts in...
THREE district volunteer emergency services organisations have received funding to help them continue running efficiently. Funding for the Devon Meadows Rural Fire Brigade, Pearcedale Rural...
THE City of Casey has received funds to better identify and prevent family violence. The funding, through the Federal Government's National Community Crime Prevention Program...
CHRISTMAS has come early for 18 not-for-profit community groups in Cranbourne. The groups were recently announced as the recipients of the 2006 Hunt Club Community...
TWO houses in Cranbourne North were broken into last week. On Tuesday, 21 August, items worth about $5700 were stolen from an Endeavour Drive house...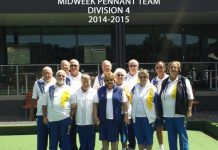 CRANBOURNE RSL BOWLS IN THE first midweek pennant final Cranbourne RSL easily defeated Burden Park at home to progress to the grand final against the...