THE Ageing Positively in Casey Festival happens next month, with a host of events and activities planned for older residents. Run by community groups, in...
MULCH blocked a Cranbourne East road on Monday after the trailer on a truck overturned during a U-turn. Senior Constable Glenn Dunn from Cranbourne Police...
A NEW community garden is making its way to Cranbourne soil. The 'Room to Grow' garden would provide a place for residents to share their...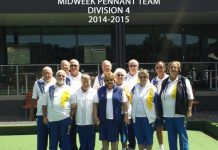 CRANBOURNE RSL BOWLS IN THE first midweek pennant final Cranbourne RSL easily defeated Burden Park at home to progress to the grand final against the...