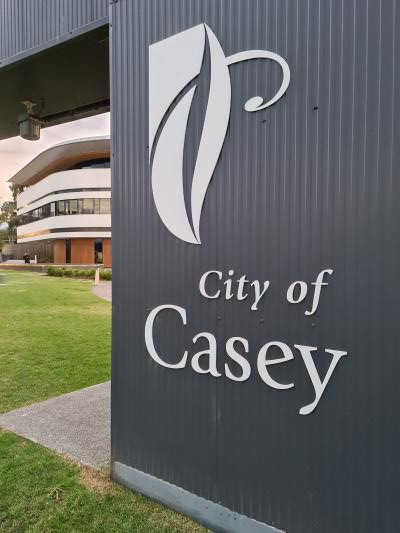 By Danielle Kutchel
The City of Casey's chair of administrators has made an impassioned plea for residents to speak to healthcare professionals about getting vaccinated, as the municipality continues to record a surge in Covid-19 cases.
Speaking at the council meeting on Tuesday 19 October, Noelene Duff said the majority of the more than 2000 active cases in Casey were not vaccinated and were under the age of 40.
Ms Duff said that with the support of Monash Health and other health services, the municipality's vaccination rate had risen above the state average with almost 93 per cent single-dosed and almost 64 per cent double-dosed.
She said an increase in vaccinations for those between the ages of 16 and 39 would help slow case growth.
She encouraged people within this age group to discuss their vaccination with health practitioners.
"I cannot emphasise and encourage people strongly enough to take responsibility for their health during this period of time and get vaccinated.
"That is the way out of this pandemic," Ms Duff said.
Her plea came ahead of a discussion about further council support for Casey's registered health and food businesses.
Administrator Cameron Boardman supported her comments and noted the wider impact of Covid on mental health and businesses.
"Whilst we finished 20202 with a degree of optimism, 2021 has arguably been more severe," Mr Boardman said in moving a motion to apply a discount of three months pro-rata of a business' registration renewal for those that have been unable to trade at all during lockdown restrictions.
In 2020, the City of Casey categorised its businesses to those who have been unable to trade during the lockdown to provide them support.
Businesses including beauty therapists, bed and breakfasts, motels, hairdressers, before and after school care and sporting clubs were invited to apply for a refund on their 2020 registration fees, with the amount refunded based on the length of time that the business was closed.
The council received 224 requests, of which 220 were deemed eligible, Mr Boardman said, with a total of $46,201 refunded.
In 2021, council officers recommended discounting renewal by the equivalent of 3-month pro-rata amount to businesses that have been unable to trade during lockdown.
The officer's report noted that this would reduce administration costs associated with applying the measure, and would also allow some control over the amount of the discount.
The report estimates that 889 businesses would be eligible, with a total of $86,019.65 in discounts.
Mr Boardman welcomed the State Government's announcement over the weekend of a new package to support businesses to move to an outdoor trading model.
He said the City of Casey would receive more than $500,000 in funding for trading and to establish semi-permanent and permanent outdoor precincts to support its local businesses.
"A number of businesses in our municipality have suffered extraordinary challenges and consequences over the last 20 or so months," he said.
"The little bits we do through our freezing of rates … to a refund on business registrations and utilising the funding we've got from the State Government to provide better amenities, hopefully go some part to easing some of that pain," he said.
Administrator Miguel Belmar said that the motion was a "small but nonetheless important recognition of what Council can do, and is only one part of the work Council has been doing to support businesses in the Casey community."
The motion was carried.