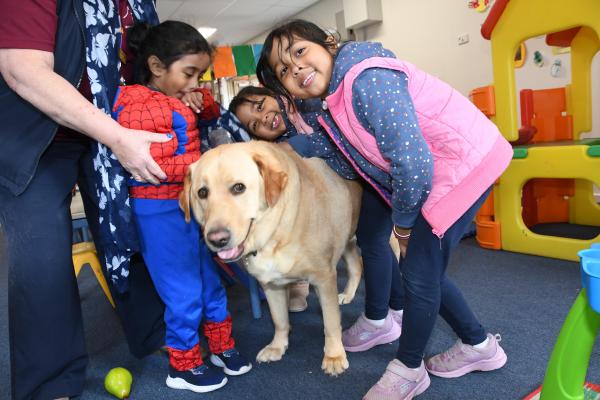 By Danielle Kutchel
A pampered pooch has found his place amongst the kids of Cranbourne and surrounds.
Hughie was born to be a guide dog, but unfortunately he didn't pass his assessment.
Hughie has sensitive paws and won't walk on certain surfaces, which is less than ideal for a life leading a person who is blind.
But CEO of Merinda Park Learning and Community centre, Jan Gilchrist, saw his potential and bought Hughie from Guide Dogs Victoria.
Now, Hughie has a new title: boss, mascot and therapy dog for Merinda Park.
It's a busy role, involving lots of pats for the children who visit the centre for occasional care or playgroup.
He also keeps an eye on what's going on in the centre, sitting in his favourite places from where he can see the comings and goings.
The kids look out for Hughie, and Ms Gilchrist said she had seen them cry if Hughie isn't there.
"He has a very calming nature about him," she explained.
"Even students, young children and their parents who have been scared of dogs have been introduced to him and they are now able to come up and pat him with no fear.
"CALD learners were particularly wary off him at first but now it is second nature for them to just walk past him or even have to step over him when he lies outside my office door."
When he's not working, the much-loved doggo is a fan of food and is right behind any person who walks into the kitchen.
"One staff member gives him her takeaway coffee cup every day to lick out and he looks for her," Ms Gilchrist said.
"Others share their apples and let him lick out yoghurt containers – all the things he should not do, but they all love him."
Hughie's cheeky side also shows when he plays.
Ms Gilchrist said Hughie "still has that puppy in him", where he chews his toys until the squeakers don't work anymore.
More than just a sensitive soul, Hughie is also intuitive and smart.
"When we had a student with a companion dog he would not go up to her dog, as if he knew it was a working dog," Ms Gilchrist said.
"He is very obedient but takes his time when you call him. It is as if he is the boss and will walk as slow as he can – there is no hurry for anything except food!"