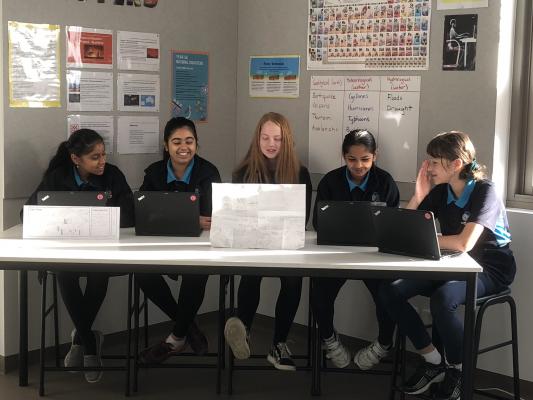 Students at Ramlegh Park Primary School in Clyde North have been recognised for their outstanding work in science, technology, engineering and maths (STEM) at a national virtual event.
The 'Future You 2 You' event, which was hosted by Australia's Women in STEM Ambassador, Professor Lisa Harvey-Smith, at Canberra's Questacon, featured eight primary schools across Australia and showcased Year 3-6 students who have been involved in addressing challenges in their school and local communities using STEM related skills.
A team of students at Ramlegh Park Primary School are researching, designing and planning to construct prototypes of homes and schools to withstand natural disasters. 
Professor Harvey-Smith said Australia's future is bright based on the outstanding projects and complex challenges these students have addressed.
"We are extremely impressed with the calibre of our younger generation and their ability to work on real issues that affect their local environment and communities.
"It goes to show how crucial STEM skills are to solving some of the biggest challenges facing our world today, and into the future," Prof. Harvey-Smith said.
"We've seen everything from biodiversity, water recycling and digital culture addressed in these projects.
"In particular Ramlegh Park's project to construct building prototypes is a phenomenal example of what can be achieved through the application of STEM skills.
"We are thrilled our younger generation can experience first-hand the power and wide-ranging benefits of STEM."
The event was part of a national Future You initiative that aims to increase girls' participation in STEM by raising awareness of the range of exciting STEM-skilled career opportunities available and challenging stereotypes through fun characters, animations, games and information about STEM.
"We know the 8-12 year-old age group is critical to longer term interest in STEM careers," said Prof. Harvey-Smith.
"The Future You platform was designed to engage these children and excite them with the vast career options that require STEM skills and more importantly, to show that these jobs are for everyone.
"The perception that some STEM fields are a better fit for boys is one of the biggest barriers to girls participating and pursuing STEM studies and careers.
"We need to overcome these stereotypes early and show all children in this age group that STEM is an exciting and rewarding career for everyone."
Along with Prof. Harvey-Smith, Australia's chief scientist, Dr Cathy Foley and a number of STEM professionals attended the Future You 2 You event, to engage with the students about their STEM projects.
The children participated in a live Q and A with some of Australia's best scientists, technologists and engineers who work to solve similar challenges in their everyday career.