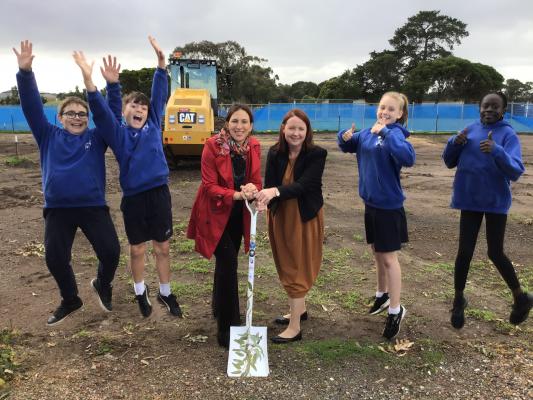 By Danielle Kutchel
The beeping of reversing trucks will soon be replaced by the laughter of students learning at Clyde Primary School, as construction steps up on the school's upgrades.
Students helped Bass MP Jordan Crugnale and acting principal Michelle Mackinlay to turn the sod on construction on Friday 14 May.
Year 6 captains Thomas, Saxon, Ayla and Yom said they were looking forward to their upgraded school.
"I think the students are pretty excited that they're getting a new school, bigger spaces to play in and more playgrounds," Saxon said, while Yom said, "it's less fun with no room".
A highlight of the build will be a new gymnasium to replace the school's ageing multi-purpose building, which no longer fits all the students in.
"The opportunity to have a large, full-sized gymnasium is perfect for us to do community events like assemblies, school productions and graduations," Ms Mackinlay said.
"This has been quite some time in the planning stages but now we're on the ground and can see it's happening, which is exciting."
She said the upgrades would also allow for "new learning opportunities" for students, by allowing staff to expand the way they teach.
Ms Crugnale welcomed the start of construction on the new facilities.
"We were here in late 2018 announcing our $22.8 m investment and since then the land has been purchased, architects appointed, designs completed, builders contracted and construction has started," she said.
"The school leadership involved in every step inputting into the design and layout to make sure it works for their students and staff.
"They deserve to have the absolute best facilities, a proper competition grade gym, specialist teaching areas and so much more.
"It is just so amazing and how wonderful the students can watch it all being built and take shape every day."