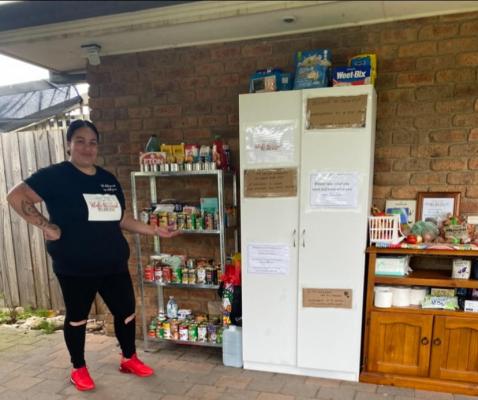 By Gabriella Payne
The last 12 months have been a difficult time for most people around the world, with Covid-19 causing job losses and uncertainty, but a group of Melbourne locals are working hard to ensure that no one in the community is left to go hungry, with communal pantries or 'pātakas' popping up at homes all across the city.
The Pātaka Movement is a community based initiative that provides free food to those in need and is run "by the people, for the people".
The idea comes from Māori culture, with the word 'pātaka' literally translating to 'pantry' or 'storehouse' and is a concept that allows people to come and go as they please, working on an honesty system of people taking only what they need and donating if they can.
It was approximately five months ago, as Australia grappled with the pandemic, that some members of Melbourne's New Zealander community decided to get The Pātaka Movement up and running and do their bit to help those in need.
Shinneē Kapea, a Hampton Park resident, quickly heard about the movement and was inspired to get her own pātaka going to help her local community, which is now open daily from 9am – 6pm and run from her own carport.
"I opened up a communal pantry outside my home about five months ago, and since then it's kind of exploded, it's been amazing," Ms Kapea said.
"All the food is being supplied by the community, from a lot of my family and friends, and the amount of donations coming in has just been overwhelming."
From what started as a simple idea in Ms Kapea's carport has grown over the last few months, and just last week, Ms Kapea said she was able to help feed "24 families in just under 24 hours" with her hampers of fresh fruits, vegetables and other food items.
"I'm just trying to give back to the people who are struggling," Ms Kapea said.
Knowing "how it feels to have nothing", Ms Kapea began her communal pantry in the hopes of supporting locals who were going through tough times, and said the results have been amazing.
"Not everyone is entitled to things when you've lost your job or you're not a permanent resident," Ms Kapea said.
"This pantry isn't just for our own people – it's open to anyone. There's no judgement and no questions here, all we ask is for people to be genuine," she said.
Although in the beginning Ms Kapea was filling her pantry with food that she had bought herself, these days she said it is constantly being refilled by the people who visit, and she only needs to check the cupboards and top food up every now and then.
"I put a lot of trust in my community, because I work full time, so I feel lucky that whenever I come home everyone has just taken what they need and nothing has been ransacked," she said.
Ms Kapea thanked the entire community for helping keep this pātaka running smoothly and made a special mention to Narre Warren charity, Back 2 Basics, who help supply all sorts of food for the pantry.
If you find yourself able to donate or are ever in need of food, Ms Kapea encouraged everyone to get involved and said she had no intention of closing the pantry any time soon.
"I'm just going to leave my communal pantry open for as long as I can – there's no need to take it down as long as it's helping people."