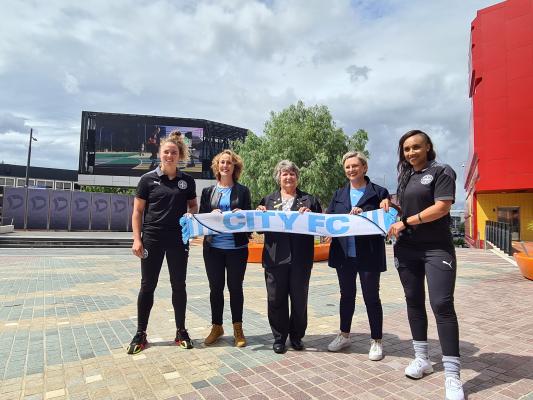 By Danielle Kutchel
W-League football is set to begin in the south east this year as Melbourne City makes its move to the suburbs.
Melbourne City Football Club signed a Heads of Agreement with the City of Casey and the City of Greater Dandenong in December 2020 to relocate its A-League, W-League and Academy teams to an elite training facility at Casey Fields.
Several of the season's W-League games will take place at Dandenong City Soccer Club.
Initially the club had been slated to play the first games of the year at Dandenong, however the games were moved following damage to the local pitch.
Dates for the local games are yet to be confirmed however it kicks off a game-changing new era for soccer in the region.
At the signing of the agreement on Tuesday 22 December, Cranbourne MP Pauline Richards was joined by City of Great Dandenong Mayor Angela Long, Melbourne City FC W-League players Samantha Johnson and Jenna McCormick, and Dandenong MP Gabrielle Williams.
Ms Richards said it was exciting to see the successful Melbourne City women's team land in the area, providing inspiration and encouragement for the next generation of athletes.
"You are what you see, so for us to be able to have so many really extraordinary footballers there, we're going to have so many little ones wearing the City colours," she said.
The two MPs hope that the presence of W-League in the region will encourage other women to get involved in sport, especially when combined with programs like This Girl Can, and government funding for female change rooms at sporting clubs.
"To have more clubs on the ground making sure they've got the facilities … is a really important part in that story of attracting more women to sport by creating environments where people feel safe and like they belong," Ms Williams said.
She added the relocation of the teams would also be a boost for sport in the local multicultural community.
"One thing in common that they love is football," she said.
For the season fixture and to book tickets to the games, visit www.melbournecityfc.com.au