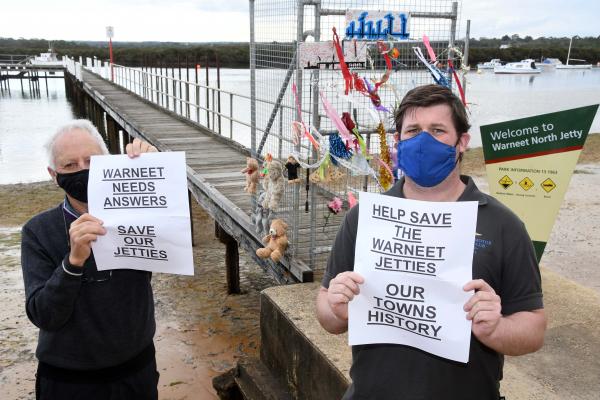 By Brendan Rees
Furious locals are calling on Parks Victoria to take urgent action in restoring Warneet's two jetties, which were both shut without notice.
Alex Stroud, commodore of the Warneet Motor Yacht Club, is leading a community campaign to save the jetties that need urgent repair work, saying they are an integral part of community life.
It comes as the club, along with boat owners and the wider Warneet community were not given notice or explanation of the jetties' closure on 4 June.
In July, Parks Victoria closed the Warneet North Jetty and the Warneet South Jetty partially closed due to safety reasons of deteriorating structures, with boating access currently remaining opened at the Warneet South Jetty.
"Public safety at these two jetties is our priority. Assessments are ongoing and we will keep the community updated on future plans for the jetties," a Parks Victoria spokesperson said.
However, Mr Stroud said he hadn't received a "reply or written acknowledgement" from Parks Victoria until he was emailed a letter on 10 September, which has been seen by Star News.
While the letter acknowledged the importance of Port Phillip and Western Port's piers and jetties as an iconic part of Victoria and that Parks Victoria was undertaking priority works at several sites, the North and Warneet South jetties were however not within the current works program "at this stage".
"We will be working with Better Boating Victoria in progressing a precinct plan for the Warneet South boating facilities which should reinforce the importance of the jetty to boating, fishing and the community's use of the precinct," the letter read.
Mr Stroud said the Warneet community had been left reeling by the decision and was now rallying to have the jetties "reinstated to a safe and usable condition" in time for summer.
Kelly Lainson, a long term Warneet resident, has encouraged all residents to tie ribbons on the fence of the Warneet North Jetty and leave notes of support. Many residents have chosen to do this to show their support to have the jetties reopened.
"The jetties at Warneet are an integral part of the Warneet and wider boating community, people from all parts of Melbourne and especially the City of Casey use these jetties," Mr Stroud said.
"Families use them for recreational purposes, such as swimming, fishing and boating; they also learn to sail off them."
This sentiment was also echoed by Barry Skene, president of the Warneet Residents Association, who said the popular jetties were "important part of Warneet's atmosphere".
"It provides recreation for a lot of people in Casey … and they bring their kids here, they'll have a picnic and they'll also swim off the front and also use the pier to fish," he said.
Hastings Liberal MP Neale Burgess has backed the locals to have the jetties reinstated, saying there had been "no effort being made to reopen them" in his address to state parliament on 17 September.
Mr Burgess posed a question to Fishing and Boating Minister Melissa Horne seeking "urgent advice" regarding repair work to the jetties and to allow their safe reopening to the public before summer – in which she has 30 days to respond.
"A government that understood and cared about the needs of Warneet residents would have upgraded at least one of the jetties over the winter months," he said.
A State Government spokesperson said: "We know how important piers and jetties are to the community but public safety must come first.
"Parks Victoria is continuing to assess these structures."