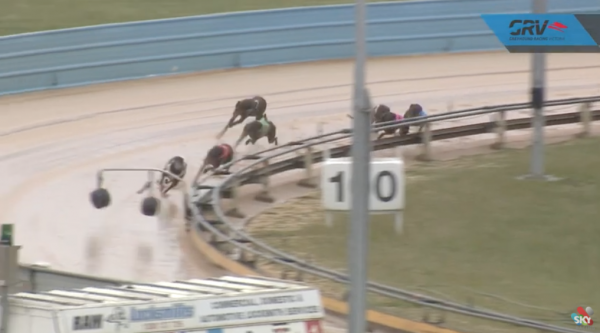 An anti-greyhound racing group is calling for "urgent reform" following the death of a greyhound at Cranbourne on Saturday 12 September.
Two-year-old greyhound Maximum Abbie collided with another dog at the home turn during race 11 at the Cranbourne greyhound racing track.
The race video shows her pulling up injured after finishing the race, with the on-track vet diagnosing a suspected fractured radius/ulna (foreleg) but was later euthanised, according to the stewards' report.
The Coalition for the Protection of Greyhounds (CPG), which works to inform the public about the cruelties of greyhound racing, said Maximum Abbie was now the fifty-third greyhound to die on Victorian tracks this year. It also says 263 greyhound injuries have been recorded at Cranbourne this year.
"Maximum Abbie was a young dog that died a typical greyhound death. Most greyhounds that die racing are euthanised after colliding with other dogs at high speed on a curved track, and fracturing their legs," national president of CPG, Dennis Anderson said.
"Many of these injuries can be treated but the racing industry isn't prepared to invest in their rehabilitation – greyhounds are disposable.
"The only way to end greyhound suffering is to ban greyhound racing. But until that happens, the industry must reduce on-track deaths and injuries by implementing safer tracks with an emphasis on straight tracks and six-dog races."
A Greyhound Racing Victoria (GRV) spokesman said the loss of a greyhound was "distressing for connections just as it is for families who lose a pet", and a decision to euthanise Maximum Abbie was made by a qualified-on track veterinarian.
"All track death are investigated and GRV is committed to ensuring greyhounds race on the safest tracks possible," the spokesperson said. "To claim greyhounds in our sport are disposable is offensive and inaccurate.
"GRV introduced the Greyhound Recovery Initiative in December, 2016 which provides financial support for treatment of greyhounds seriously injured at a race meeting.
"Greyhound racing has undergone massive reform in the past five years with welfare and integrity priorities for all involved."
GRV said the Victorian Government's Code of Practice for Keeping of Racing Greyhounds has welfare requirements "over and above that of any other animal", adding it had a long-term strategy to make their tracks safer and were also collaborating with Professor David Eager from University of Technology Sydney to develop a scientific underpinning for safe racing.
"GRV has used this approach to rebuild the Horsham track and currently rebuild the Traralgon track," the spokesperson said.
"Any changes we make at other tracks will be based on sound research and scientific evidence.
The Cranbourne Greyhound Racing Club employs 16 staff and supports local businesses and suppliers across the region.
The CGRC, along with sister clubs Traralgon, Sale, and Warragul, contribute more than $40 million to the regional economy each year, providing hundreds of local jobs, according to GRV.