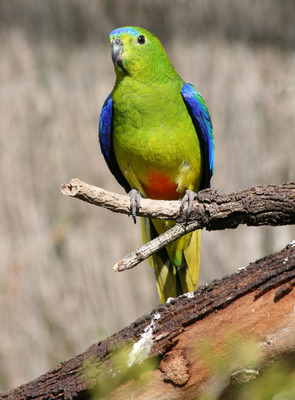 Pearcedale's Moonlit Sanctuary says its recent release of 13 captive-bred rare birds near Western Port Bay had "responded extremely well" to their training.
It was the first time that the Orange-bellied parrot, Australia's most threatened bird species, has ever been released in the area and involved a world-first training regime.
A large purpose-built release aviary was home to the flock of birds for two months before their release, where the birds received their pre-release training.
The training aimed to instil site-fidelity through daily re-call training to their specially-designed food station.
"The parrots responded extremely well to the training whilst in the aviary," Lisa Tuthill, Moonlit Sanctuary's life sciences manager said.
"We consulted several international and local animal behaviourists to tailor a program for the parrots and we are thrilled with how the pre-release training progressed."
The time spent in the release aviary also gave the parrots exposure to environmental elements such as wind and rain, and awareness of birds of prey flying overhead, calling and perching in trees.
"Initially the parrots reacted with confused and random flight when a bird of prey such as a Goshawk approached the aviary," Lisa added, "however quite quickly, the parrots learnt to camouflage themselves on the grass in the aviary whenever a bird of prey appeared, so the training will help them survive better in the wild."
Tracking devices were fitted to selected birds from the group prior to the release in April by Moonlit Sanctuary and Zoos Victoria staff. GPS solar-powered satellite tags were fitted to some of the parrots, while others were fitted with VHF transmitter tags. These devices are now allowing the birds' whereabouts to be followed closely.
Since their release, several of the parrots have been observed feeding on saltmarsh such as Beaded Glasswort, roosting in Mangroves and also interacting with local Blue-winged parrots.