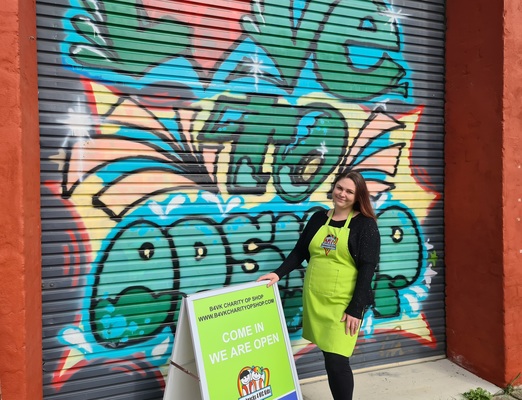 By Danielle Kutchel
Passion, commitment and fate have combined for a Cranbourne volunteer who recently landed her dream role with the organisation she loves.
Suzie Brooking had been following Backpacks 4 Vic Kids, a Cranbourne-based charity that supports kids in out of home care and emergency accommodation, for some time before the opportunity to volunteer there arose.
As a keen op-shopper and a mother who loves children, she had donated over the years to the charity's cause and one day decided to pop in to the newly re-opened op shop for a look.
Another volunteer there mentioned that they need an extra hand to manage the shop.
"I had always wanted to volunteer somewhere, especially an op shop," Mrs Brooking said.
"They needed help, and I thought 'what can I do?'
"I met Sally (Beard, founder of Backpacks 4 Vic Kids) … and I was recommended by one of the other ladies there, and it went from there!"
She began working behind the scenes to realise the charity's vision for its op shop. With a passion for design and organisation, Mrs Brooking was able to put her skills to good use, creating signage and working on the organisation's mascot with her daughter.
She's also had the chance to further develop her blossoming skills in business management.
Then there are the wellbeing benefits of volunteering: Mrs Brooking says her stress levels and mental health have benefited from the role.
It's strengthened her social connections and her connection with the outside world, and given her a goal to work towards as part of a team.
Not long into her volunteer tenure, Ms Brooking was told the organisation would be looking to turn the role into a paid position, with applications open externally.
Overcoming her doubts, Mrs Brooking threw her hat in the ring – and was gobsmacked when she received the paid role.
As a mother to two special needs children, she had been unsure that she would be able to keep up with the shop's needs.
Happily though, it's worked out well so far and has reduced the isolation she felt at home.
"I had to push through my own anxieties and fears to put myself out there," Mrs Brooking said.
"I was fearful of getting a job. Some mums might not go to work because they're scared of what happens if their children need them, but this is a positive because mums need time to themselves."
She said volunteer work could help other mums in her situation to get back into the world.
"The feeling of belonging and doing something important helps you as a person and a mum, and if you volunteer it's on your terms."
There's a strong thread of wanting to help running through Mrs Brooking's being, and in part, it was this that drove her to commit to the original volunteer role.
"For volunteers, especially when you volunteer for a charity or cause, it makes it more rewarding that you're a part of something bigger than yourself and you never know what it could lead to.
"They're helping me as much as I'm helping them. People volunteer for different reasons, and for my reasons, it's helping me."
While the op shop has been closed for the past few weeks due to Covid-19 restrictions, Mrs Brooking said she can't wait to reopen, bigger and better than ever, as soon as they are able to.
"I enjoy doing it, it doesn't feel like work and the goal is to make the shop as successful as we can," she said.