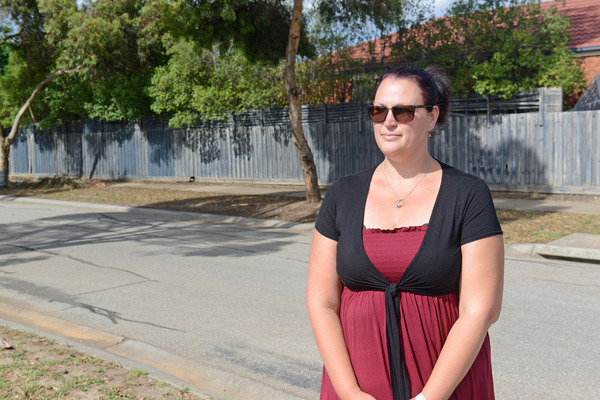 By Brendan Rees
A terrified Cranbourne West resident says she keeps a baseball bat near her front door after thugs broke into her car.
It comes as neighbours say they are afraid to live in their own homes as their streets are rife with car thefts and other crime.
Tara Hocking of Bookham Way said she woke up on Friday morning, 24 January to find scissors jammed in the ignition of her Subaru Forester with a handful of change stolen.
"I'm sleeping – not even eight feet from the door of my car, didn't hear a thing; it's a bit scary," Ms Hocking said,
"It is out of control. It is getting to the stage where I will go out with a baseball bat – and I'm not the only person.
"If you can't respect my personal boundaries … then I will hold you accountable if I catch you," she said.
Another resident, Emma Hughes, said both her and her husband's cars were stolen from their Miralie Way home in the space of three weeks.
"They drove on the rims so severely that it was actually, the rim was worn down to where the brake pads and brake discs are," Ms Hughes said of her Holden Commodore after it was recovered.
"They're just ruthless."
Ms Hughes said she understood police were "doing everything they could" but said residents were "getting to the point now where citizens are going to be taking it into their own hands" because "these people are not being caught."
"We just don't feel safe in our home anymore."
Ms Hughes also called for action at the intersection of Stephellen Way and Miralie Way where hoon drivers "came flying around around the corner without stopping."
Another Cranbourne West resident, Jack Thomas, said his Nissan Navara was stolen on Australia Day where the thugs used the car to take out trees and road signs on Fairfield Boulevard before crashing it at a bus stop on Evans Road.
Meanwhile, Lynbrook residents woke up last week to find their car windows smashed while parked in streets.
Casey Neighbourhood Watch chairman Rob Ward said most car thefts were opportunistic and advised residents not become complacent when locking their car and securing valuables.
"We can take sensible precautions and there will be less of it," he said.
Liberal MP for Gembrook Brad Battin said the State Government had had broken their promise to deliver funding for a new police station in Clyde North – with theft from motor vehicles rising "with 600 more incidents than the previous year."
Victoria Police Inspector Justin Cornford said through Birds of Prey operations police were tackling vehicle crime in the south east using automated number plate recognition technology to identify false registration plates, stolen vehicles and people wanted on outstanding warrants.
"While police are working hard to stop vehicle crime offenders in their tracks, we also want to remind the community about the importance of reporting any vehicle crime incidents as soon as they can," Insp Cornford said.