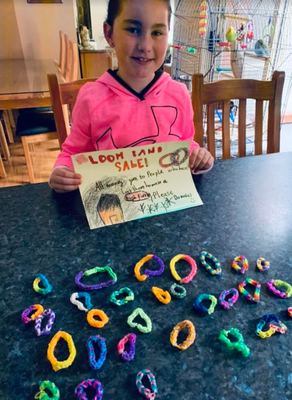 By Brendan Rees
When seven-year-old Chanelle of Cranbourne saw the devastation of the bushfires on TV she knew she wanted to make a difference.
So she went to her bedroom and began making rainbow lume bracelets to help raise money to support families involved in the fires as well as wildlife shelters.
"Chanelle was in her room last Thursday making looms bands and my husband asked what she was doing," proud mum Danielle Frazer said.
"Chanelle said 'I'm making loom bands to help the people who have lost their houses.'
"As her parents we just had to support this act of kindness. We posted on Facebook and with support from family and friends she has raised $450."
Ms Frazer said their minds were blown by the generosity of people.
Chanelle will donate half of the funds to FoodBank and World Wide Fund for Nature.
This season's bushfires have been unprecedented in scale and is having a devastating impact on native wildlife and biodiversity.
Mobile Wildlife Triage Units are now in place at Bairnsdale, Mallacoota and Corryong along with Wildlife Assessment Teams working on fire grounds based out of Bairnsdale, Orbost and the Budj Bim fire complex.
The State Government is providing immediate support for wildlife shelters and foster carers to help cover the costs of food, transport, medicine and enclosures as animals are rescued from bushfire affected areas.
Grants of up to $1,000 are now available to shelters and foster carers assisting with the care and rehabilitation of native wildlife impacted by the fires. This is in addition to $200,000 already made available to wildlife rehabilitators this financial year to support their operations
Donations to the Victorian Bushfire Appeal can be made online at Community Enterprise Foundation or at any Bendigo Bank branch.