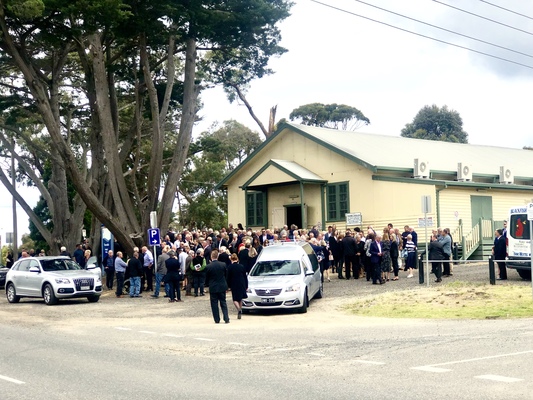 By Brendan Rees
Hundreds of people have packed Tooradin Public Hall to farewell community stalwart and legend of the Casey Cardinia region, Rex Genoni, who died aged 81.
There wasn't a spare seat left as about 400 family, friends and colleagues paid their respects to the man they knew as "Mr Tooradin" after his death on 4 December following a battle with cancer.
Many choked back tears as the opening music 'Annie's Song' by John Denver echoed through the hall.
Born on 12 May, 1938, Mr Genoni was remembered as a loyal, passionate, caring and respected man at the moving service held on Thursday 12 December.
In his eulogy, Mr Genoni's son, Derek, spoke of his father as a "proud and passionate Tooradin resident."
Mr Genoni started his education at Tooradin Primary School in 1943 where he met many "life-long Tooradin mates" before attending Caulfield Grammar School in 1950. After school, he joined the family business, completing an apprenticeship as A-grade welder.
When Mr Genoni started a full-time role, it was small agricultural machinery business but "it wasn't long" before Rex" managed the business, Gendore Tractors and Machinery.
"Under Rex's guidance the business became one of the largest independent machinery distributors in Australia," his son, Derek said.
His father Lewis Genoni, who founded the business, died on 1 June, 2011 at Killara Hostel in Kooweerup. In 1948, Lewis went into a partnership with Nar Nar Goon farmer Greg Dore and the name 'Gendore' was born – an amalgam of the two surnames.
Lewis Genoni's biggest honours was when he received a life achievement award in 1987 from the Pakenham branch of the Victorian Farmers Federation.
During the funeral service, close friends of Rex Genoni said he had a love for cars as well as a passion for football, tennis, and the outdoors including fishing, hunting, camping, and cooking.
His first car was an Austin standard 8 "but it didn't go fast enough or stay on all four wheels often enough" so he bought his dream car, an Austin Healy 100-6 in 1958.
He served a "tireless" and integral part to various community groups including serving as president and life member of the Tooradin District Sports Club for 34 years.
He was also president and life member of Tooradin-Dalmore Football Club; president and life member of the Tooradin Tennis Club and commodore of the Hastings Marine Yacht Club among others.
A Tooradin man all his life, Mr Genoni married his wife Bobby Smith in 1963. They built a new home on Bayview Road where they raised their three children – Derek, Sophie and Glenn.
Dubbed as "the man about town," Mr Genoni was described as having a "fierce determination – not to mistaken with a bloody bad temper," his son, Derek said.
"I can assure you that if he taught us anything it was winning was all that matter and to leave nothing out there," he said.
"I've spent a lot of time with Rex, I've lived with him, worked with him, debated, no that's what he probably called 'argue', camped with him, fished with him, hunted with him, travelled the world with him and at times just walk beside him, and I'm certainly going to miss him."
Great mate of 40 years, Darrell Hardy, said Mr Ginoni started at the Tooradin District Sports Club when it was "tin shed with volunteers."
Today, he said "it's just amazing; it's providing cash to all the sporting bodies in the community."
Mr Ginoni was "totally involved" and "devoted" to the sports club, he said, adding "not many people know that Rex loaned a large amount of personal money to the sports club to kick it off." The function room was recently named in Mr Genoni's honour as the 'Rex Genoni Function Room'.
Mr Hardy added Mr Ginoni "always greeted everyone 'what do you know?'"
"If he didn't know your name or anything he just said 'what do you know?' That's just something that always stuck with us," he said.
Mr Hardy remembered Mr Genoni as a "really smart and "well-versed" man and "always a good bloke to run something past in a serious manner."
"He could nut-out a problem – he loved a challenge."
Choking back tears, Rob Cocks described his great mate as a "remarkable man" and "without question was a man of passion, integrity and the contribution he made to this community "
"I think our lives would be all poorer with his passing," he said.
Mr Ginoni's eight grandchildren also paid tribute to their "pa" in which a little one said "although he was tough on the outside" his "love for us was as a soft and sweet as the ice-cream we both loved to eat."
They also reflected on the "great times" they spent with Mr Genoni who they described as a "loving, caring and very generous grandfather."
"We will all miss you."