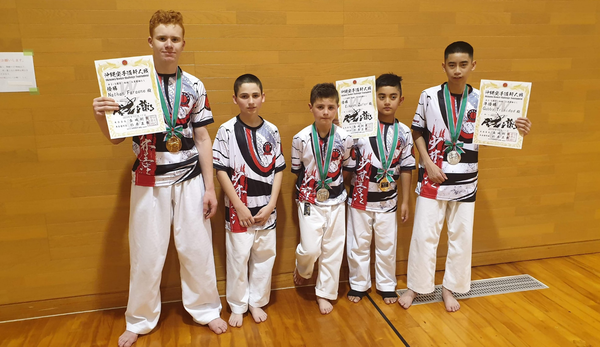 By Brendan Rees
Talented karate kids from a Cranbourne martial arts school have dominated on the world stage, clinching a swag of medals at a Japanese tournament.
The five students of Casey Elite Martial Arts delivered an outstanding tally of four medals including two gold, two silver, and a third placing at the 2019 Okinkawa Rookie Cup on 17 November.
The group of Nathan Faraone, 15, Charlie Ellis, 10, Gabby Trinidad, 12, Elhaam Zafer, 8, and Brayden Sultana, 14 – who range from white to red belt – did "extremely well" according to their master teacher Shihan Matt Charles.
"To put this into perspective, this is only the second time in history that westerners have even made it past the first round let alone win," Shihan Matt said.
"The first time was when our team first competed in this event in 2014 where we won two divisions."
Competing against teams from around the world, Shihan Matt said the group were thrilled with their win.
"For two of them it was the first time they have ever travelled, it was quite an experience for them," he said.
"They absolutely loved it. I've been there many, many times and the Japanese culture, they're really, really tough. If you beat them you have to knock them out.
"Okinkawa is the birthplace of karate, so just to be there training at the Hombu Dojo which is the main centre … is an honour let alone train with him, let alone for him to allow a photograph, let alone him to invite you to his tournament.
"Kids who do well at Okinkawa then get invited to fight at other tournaments around the world and showcase just how good Australian karate really is."
The medal winners Casey Elite Martial Arts have now qualified for the Junior World Cup in Osaka 2020 but the school is in desperate need of sponsors to help cover their travel costs.
Shihan Matt added the group's win was an opportunity for more Australian kids to get involved in the sport as "we've opened those doors now."