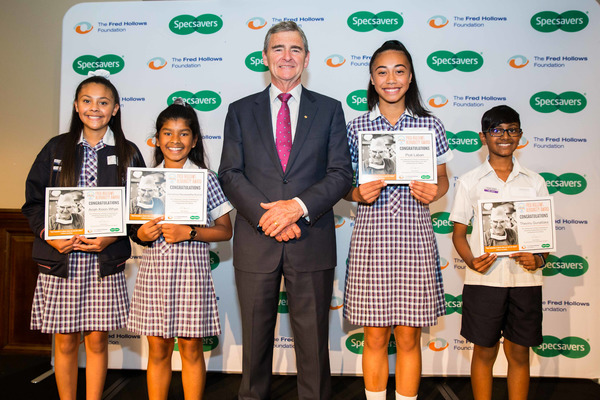 Four students of St Kevin's Catholic Primary School in Hampton Park have recognised for their compassion, integrity and kindness.
Thevinu Gunatilaka, Ariah Koon-Whye, Karishma Navaneetha Kumar and Piuti Laban received at the Fred Hollows humanity Award ceremony at Melbourne Town Hall on Monday 25 November.
Thevinu was nominated by his teacher, Coralee Chain, for his inspiring positive influence on younger students.
"Thevinu has shown compassion to others in his role as a 'Better Buddy' at school," Ms Chain said. "He actively shows compassion and kindness to others when kindly supporting others in need."
Ariah was nominated for her supportive nature and kindness.
"Ariah is reliable and a positive influence on her peers," Ms Chain said.
"Ariah has been using her lunch times to be a visible presence on the playground and support the younger children."
Puti Laban was nominated by teacher, Vanessa Buttigieg, for her considerate and encouraging manner.
"Puti shows compassion towards opponents in sporting matches and her classroom," Ms Buttigieg said.
"Puti will go out of her way to encourage other team members and help teach them to be the best player they can be".
The Humanity Award is a national initiative of The Fred Hollows Foundation that acknowledges Year Six students who follow in Fred's footsteps by demonstrating humanitarian values towards others.
Former Premier John Brumby AO presented 36 students from across the state with their certificates before announcing Lauren Rowe-Roberts, as the 2019 Victoria Junior Ambassador to The Foundation.
Founding Director Gabi Hollows said the award highlights inspirational students making a positive difference in their communities.
"Fred would have been incredibly proud of the contribution these students are making to society, no matter how big or small their actions," Ms Hollows said.
"To all of this year's Humanity Award recipients and to the 2019 TAS Junior Ambassador to The Foundation, I offer my warmest congratulations and my heartfelt thanks."
As a Junior Ambassador to The Fred Hollows Foundation, Lauren Rowe-Roberts will allocate $5,000 to one of The Foundation's programs to end avoidable blindness. This gift is possible through the generous donation by the award's charity partner Specsavers.
Lauren chose to support The Foundation's program work in Kenya, which works towards increasing eye health services to restore sight to 150,000 people.