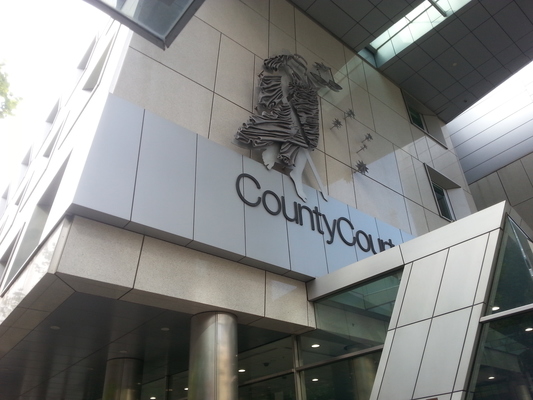 By Brendan Rees
A pair of drug addled bandits who robbed a shed twice on the same morning – in what a judge has described as "clearly organised and sophisticated offending" – have been jailed.
Dylan Stone, 27, of Cranbourne North and his accomplice Jake White, 33, pleaded guilty to joint charges of burglary, theft, attempted theft, and handle stolen goods during a Victoria County Court sitting in Melbourne on 22 November. Stone also pleaded guilty to possessing a firearm.
Their crime spree unfolded when Stone and his co-offender Laura Robinson drove to a property in Lysterfield in January 2018 using a stolen Jeep Cherokee which was also bearing stolen number plates.
They met White at the rural property on Wellington Road about 2.30am who had driven there in a white Renault van.
About 2.50am, they reversed the van into the property and forced entry to a storage shed before loading the van with "a number of valuable items" and driving off, Judge Paul Lacava said.
The court heard Stone and White returned to the property at 5am to steal more items – only this time their eye was turned to two jet skis on a trailer connected to another Jeep Grand Cherokee.
White moved a security camera in order to avoid detection but as they tried to unhook the trailer they were spooked by a barking dog.
"You were confronted by the owner of the property before you both drove off," Judge Lacava said.
The stolen Jeep Grand Cherokee was found dumped and DNA from the car was linked to Stone. Police also found the Renault van with DNA matching that of White.
Ten days later, police raided a Cranbourne North property and arrested Stone and Robinson. Stolen items from the Lysterfield property were also found, the court heard.
In addition, police recovered a shotgun as well as a stolen motorbike and stolen HSV Holden.
"Fingerprints on the property matched to you Stone," Judge Lacava said.
In sentencing, Judge Lacava said: "The burglary and theft were conducted in a brazen manner … it was clearly driven by the desire to make money".
The victim of the burglary had been left "feeling unsafe in her own home and has affected her way of living in many ways," the court heard.
Stone had worked as a labourer but after suffering spinal injuries due to many motorbike accidents he began to abuse drugs.
White had run a butcher shop with his brother but his life turned "out of control" following the death of his mother at a young age and the breakdown of a relationship in which he began drinking heavily and using drugs, the court was told.
Stone was sentenced to six years jailed and will be eligible for parole in four years and two months.
White was sentenced to five years jail and will be eligible for parole in three-and-a-half years.
Robinson pleaded guilty to another judge to burglary and other offences and was sentenced to nine days jail and handed a 15-month community corrections order.