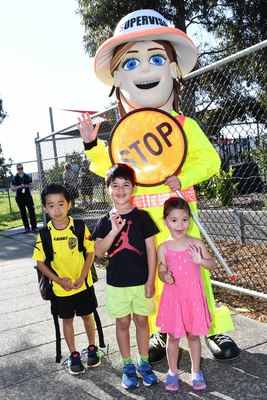 By Brendan Rees
Students of Lynbrook's Saint Francis De Sales Primary School have put their best foot forward when it comes to healthy habits and keeping active.
On the morning of Thursday 31 October students walked to school as part of VicHealth's Walk to School program where they were greeted by Melbourne Stars' Starman mascot and Lottie the Lollypop Lady mascot at the school gate.
The school has been promoting walking, riding and scooting since the start of Term 4.
The school's Walk to School leader Rachel Lenko said students met at 8am at the Lynbrook Community centre and Figtree Reserve and walked to school together.
"Our parents and friends group chipped in by organising fruit and bottles of water which were generously donated by Bendigo Bank and Woolworths," she said.
Students also donned colours of Ghana's flag in West Africa as gold donations were made to help communities in Ghana through Catholic missions.
Fourteen schools in Casey have taken part in the program which started on 7 October.