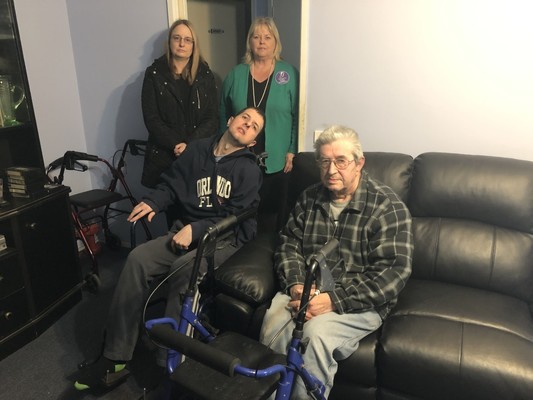 By Taylah Eastwell
The lack of supported accommodation facilities for adults living with disabilities is taking its toll on carers and parents, with thousands left with no option but to live in unsuitable homes lacking vital supports.
City of Casey Mayor Cr Amanda Stapeldon is taking a step towards helping families in these situations, pulling on the walking shoes to treck up to 10 kilometres each day between Saturday 14 September and Sunday 22 September to raise money for the Wolfdene Foundation's Project 28 Initiative.
The project 28 initiative seeks to address the current shortfall of over 28,000 households Australia wide for people living with a disability and aims to create 28 supported accommodation units by 2028.
For Cranbourne resident Christine Ritchie and her family, awareness and fundraising for new supported accommodation facilities would provide great relief.
Christine's brother Anthony lives with a disability and upon the death of their mother, Anthony's care was up to their 81-year old father who is concerned about how he will care for his son in the future.
"My dad is 81 and he has a walker and a medical alarm so he can't do as much for Anthony anymore, so he's very concerned about his future," said Christine.
"It's only recently, after a health scare, that dad's been able to get fulltime carers to come in, but before that he was doing it all on his own, including getting him ready for bed and showering him."
Both Anthony and Christine's elderly father have suffered falls recently, making it unsafe for Anthony to remain in the home and extremely hard on their father to care for him.
"I don't know what to do, he wants to stay at home with my dad, but it's not always going to be possible," said Christine.
Cr Stapeldon invites members of the community to join her in the walk for a worthy cause, which will see her visit community groups, businesses and local charities over the period before finishing at the Doveton Show.
"Please join me between 14 and 22 September, and remember that every dollar counts, so if you are in a position to spare a little bit of money, we welcome all donations to support the wonderful initiative that is Project 28," Cr Stapeldon said.
"I would love to see people from all areas of the community get behind this cause, as not only is this something dear to my heart, but the challenges faced by people who live with a disability, as well as their carers, is something everyone should be aware of," Cr Stapeldon added.
Christine praised Cr Stapledon for taking up the opportunity to promote the project, saying the supported accommodation units would be an ideal outcome for her family.
"They're built to the person and most importantly for us, they would be close to home," Christine added.
Cr Stapeldon's full walking schedule can be accessed on the City of Casey website.