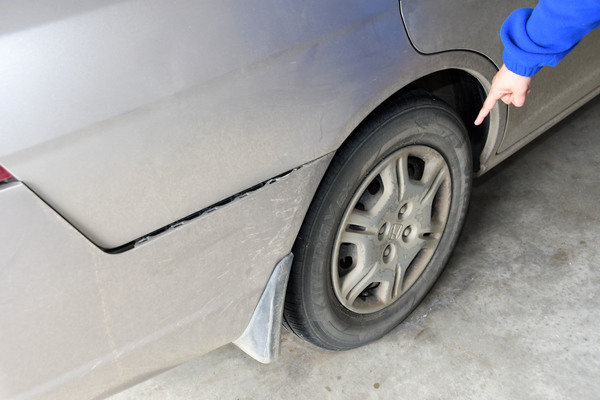 By Brendan Rees
A resident says a gravel section of Thompsons Road in Clyde North has become so bad his wife's car is constantly getting damaged.
Ankit Mistry says it's only a matter of time before the road between Soldiers Road and Bells Road caused a serious accident but Casey Council assures the road will be upgraded.
The Clyde North resident said the road was falling part and being damaged by rain – with conditions getting "worst day by day."
He said the tyres of his wife's car, a Honda Civic, were "almost gone" as well as other damage worth about $1,500."I can't even sell it .. there's no point in buying a new car at the moment until they fix the road."
Mr Mistry says the road continued to worsen as more trucks used Thompsons Road as construction of new estates got underway in the fast growing area.
Parents also used the road to drive their kids to nearby schools including Berwick Chase Primary School, Rivercrest Christian College, and Hillcrest Christian College, Mr Mistry said.
He added: "This is the quickest route you can take if you want to access these schools else you have to take Grices Road which will add another 30 minutes if you are driving from Clyde North."
Mr Mistry said he contacted Casey Council but was told "there is no timeline or projects" assigned to the road.
Casey acting director of city planning and infrastructure, Duncan Turner said the portion of Thompsons Road between Bells Road and Soldiers Road, and beyond to Smiths Lane, would be upgraded.
"We are aware of the pressure that the rural gravel roads are under from construction traffic while the development of new estates are underway," Mr Turner said.
"Roads will be built as part of estate developments, however the timing of when that occurs is dependent on the timing and progress of each development.
"Until the roads are built, we've increased our maintenance regime. Thompsons Road is inspected each week and graded, if required.
"Council is actively working with developers in the area to secure the delivery of this road upgrade in the short term," Mr Turner said.
The upgrade will be part of council's Clyde Development Contributions Plan.