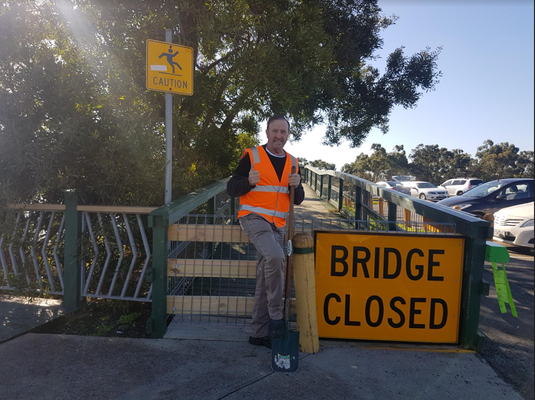 By Brendan Rees
A stoush has erupted between ratepayers and Casey Council over Tooradin's iconic footbridge which remains closed the public due to its decaying state.
Council is adamant a new bridge will be built with planning and designing for a replacement bridge to be undertaken during the second half of this year and early 2020.
"We will also need to then consult with stakeholders including State Government departments, the Foreshore Committee, Tooradin Business Association (TBA) and the local community before a design is finalised, which we hope will achieve a great outcome for everyone," Casey Mayor Amanda Stapledon said.
"Unfortunately, it is not as simple as repairing and replicating what is there as there are current standards we need to ensure the bridge complies with."
But the TBA's secretary Rochelle Halstead, whose group have started a petition to save the bridge which is a major drawcard for tourism, says it had been "known for a while that the time was coming that it would need to be replaced."
"I think that's awful because it's incredibly important piece of infrastructure for Tooradin," she said.
"It's easy to sit back now and say 'well the planning's got to be done' but the community now has to be without that bridge for two years."
Ms Halstead also hit back at Balla Balla Ward councillor Geoff Ablett saying she tried to call him twice about the matter without a response despite Cr Ablett telling Star News he had no record on his phone. She says she has since received an email from Cr Ablett.
Cr Ablett said preliminary design work had started for a replacement footbridge.
He also wrote a letter to the TBA saying: "Once the necessary planning and design work has been done, and a cost estimate prepared, this project will then be considered at the next budget consideration."
"The safety of our residents is council's most important priority," he stated.
Cr Ablett said he had also requested signs be put up around the town advising residents of a replacement bridge.
Hastings MP Neale Burgess has also thrown his support behind residents, requesting the State Government urgently repair the bridge as it was an "iconic asset that greets visitors to the town and connects both sides of Tooradin."
Nigel Kilpatrick, a teacher at Tooradin Primary School said it was hard to access the foreshore for students to undertake science activities while the footbridge was closed.
Helen, who works at Tooradin's Pelican Cafe said the bridge "plays a big part in Tooradin" and its closure was impacting on businesses.