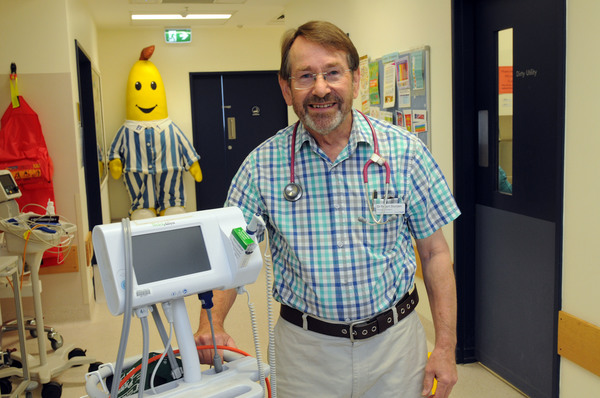 By Brendan Rees
Every day of the year, paediatric surgeon Dr Robert Stunden goes to work wearing short sleeves and shorts.
This, he says, helps children and their parents relax "rather than being put forward in front of a statue which they have to look up to."
"I never wear a tie except for a funeral," the Devon Meadows resident says.
As the head of paediatric surgery at Casey Hospital, Dr Stunden's efforts, and service to medicine in the field of paediatric surgery, have been honoured with an Order of Australia medal (OAM) in the 2019 Queen's Birthday Honour list.
With a career spanning nearly 50 years, he has volunteered tirelessly with a long list of groups.
This includes being the founding member of the board of management with the Koo Wee Rup Health Service where he served as chair and vice-chair.
He also joined the committee of Royal Australasian College of Surgeons, and served as the secretary and Victorian representative with the Australian and New Zealand Association of Paediatric Surgeons.
Today, he works at Monash Children's Hospital in Clayton and Peninsula Health in Frankston, conceding working with children "keep you young at heart."
"I had always enjoyed working with children … they get sick very quickly but they also get better very quickly if you treat them well," he explains.
"You have to make decisions fairly quickly … You've got to revised how you're managing the child but it's very rewarding."
Born in Yorkshire, UK, Dr Stunden graduated from Edinburgh Medical School before arriving in Australia in 1979 where he took up paediatric surgery.
In 1985, he spent two-and-a-half years in Cape Town, South Africa volunteering with the Red Cross Children's Hospital where there was mass racial violence.
"There were about 20,000 political murders a year while I was there," he said.
"The work load is enormous so you learn a lot very quickly under not quite first world conditions.
"It is an extremely well run hospital that deals with all types of things wrong with children, especially things they're born wrong with."
While at the Red Cross Hospital, Dr Stunden met his wife, Carol, who he credits in receiving his OAM as it "wouldn't have been possible" without her support.
He also acknowledged the support of staff at Monash Health and Peninsula Health which he says is a "team effort."
"It's not just me that's achieving an award, it think goes to the whole of the units."