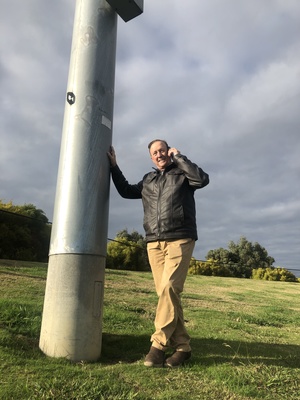 By Brendan Rees
Casey Council stands to earn about $20,000 a year under a proposal to lease a small portion of land at Casey Fields for a Vodafone telecommunications facility.
The facility, which involves a 4m by 6m site, would replace a 25 metre light pole at the Cranbourne East athletics track with a new 41.6 metre pole and reinstall existing floodlights, resulting in improved mobile phone reception.
It's proposed the equipment box panels would be located on the outside of the existing sporting fence – all at Vodafone's cost.
Casey councillors resolved to give public notice of its intention to grant a lease to Vodafone Network at their 16 April council meeting.
Council will now consider any public submissions until 6 June. If none are received, council will grant a lease to Vodafone – subject to council's solicitor approval.
Under the plans, the land would be leased for up to 30 years with maintenance, including the removal of graffiti, being the responsibility of Vodafone.
The equipment box will include a 2.8m high chain black mesh fence to match the existing sporting fence with 3m wide access gates, a council report said.
Councillors also agreed the first year's rent would go towards capital improvements at respective reserves.
It's expected the facility will increase the uptake of mobile data services such as smart phones, tablets and data cards, according to a council report.
Balla Balla Ward Councillor Geoff Ablett said the proposal was a win for the community.
"We definitely need better coverage, it is really bad," he said.
"We are having talks with all major providers to lift their game in the area – if that doesn't happen I will raise it again with council," he said.
"I walked out the front one night at Junction Village and there were six of us standing in the street at night in the dark on our mobile because if you're inside you don't get a reception or it just cuts out."