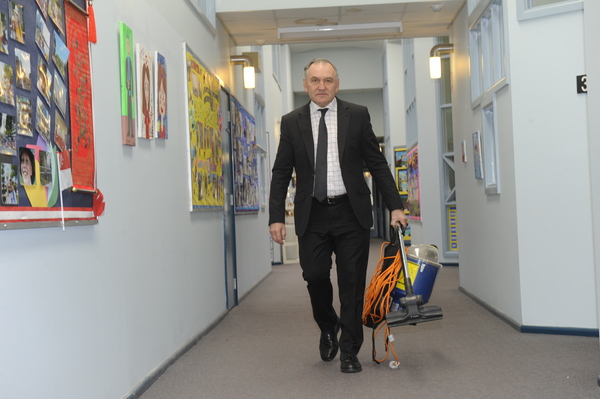 By Brendan Rees
Stress among principals is on the rise as the reduction of cleaning hours takes its toll on a number of schools, Berwick Lodge Primary School principal Henry Grossek says.
Mr Grossek believes there has been a "lack of satisfactory progress" with principals' concerns after the State Government slashed over 100 state schools' cleaning contracts to stamp out routinely underpaid and exploited cleaners.
Speaking with other principals, Mr Grossek says they "remain dissatisfied" with the set cleaning hours which he described as "grossly inadequate".
Mr Grossek recently sent a four-page report to the State Government and Department of Education and Training (DET) to address the "very problematic" reforms.
Mr Grossek, who led a public campaign, whereby his school was able to increase their daily hours from 6.5 to 12, said "it remained a puzzle to me that similarly successful outcomes for other schools could not also be arrived at in a timely manner, if at all."
This week Mr Grossek received an email from the Victorian School Building Authority chief executive Chris Keating stating there would be increase of "cleaning frequency of low use areas" effective Term 1, 2019 at a cost to the department.
"It has become clear that the low frequency cleaning of excess space is an issue that we need to address now," Mr Keating stated in the email.
"As an example, you can expect soft floors in a low use general purpose classroom to now be vacuumed fortnightly."
Mr Grossek said this was a "welcome acknowledgement" from DET to "better resource the cleaning reform program, however it does not go anywhere far enough to address the fundamental flaws in the cleaning model."
Minister for Education James Merlino said: "I will not tolerate any drop in standards from any of the contractors and this has been made very clear to them."
Australian Principals Federation president Julie Podbury said the cleaning reforms had taken a "huge toll" on school leaders, leaving "many of us longing for the days when we had a team of cleaners directly employed by the school, who had genuine pride in their schools and school rooms shining brightly."
Former Cranbourne Park Primary School cleaner 'Michael' (not his real name), who lost his job to the reforms says he's been able to keep his "head above water".
"I do little jobs for schools that ring me up because their toilets are so disgusting that they offer work for me to come in," he said.
Hastings MP Neale Burgess said students were "now paying the heavy price of filthy schools, with classrooms, drinking fountains and toilets among the areas of schools that have had to be quarantined because they are unhygienic."