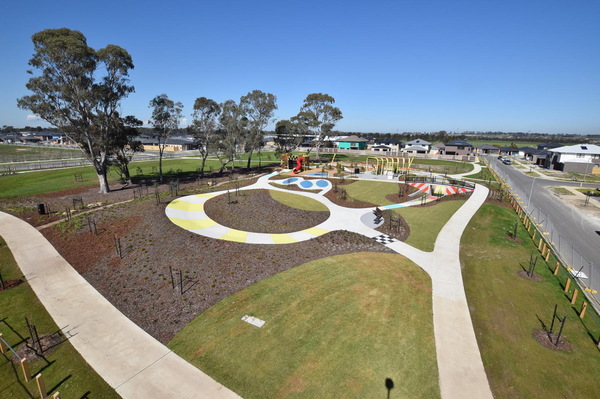 Start your engines, kids: A Grand Prix-themed park is set to open in Clyde North.
Featuring a race track for bikes, scooters, skateboards and rollerblades, the park will be launched at a family fun day at Berwick Waters on Saturday, 6 October, from 11am to 3pm.
The 1.2ha park draws inspiration from the world's greatest raceways and is designed for young racers to face new challenges and hone their skills on a safe, colourful race track.
The Grand Prix Park caters for children of all ages, with other features including a zipline, in-ground mini trampoline, swings and an interactive play tower.
It will be launched with fun kids' races, bicycle safety sessions run by Cranbourne Traffic School, Grand Prix jumping castles, face painting and a visit from Mario and Luigi from Super Mario Kart.
Pizza, a sausage sizzle, sliders, ice-creams and coffee van will be among refreshments available at the event.
Frasers Property Australia residential Victoria general manager Sarah Bloom said she is excited to unveil the one of the company's most impressive parks.
"The Grand Prix Park has been designed to offer young families a different park experience that will grab children's interest – it's a fun way to be active and improve their skills on bicycles, scooters, skateboards and rollerblades," she said.
"We know children of all ages are going to love it.
"The family fun day will be a great opportunity for people to test out the new park, race each other around the track, and form new connections in the community."
The park is located at 90 Skylark Boulevard, Clyde North 3978.