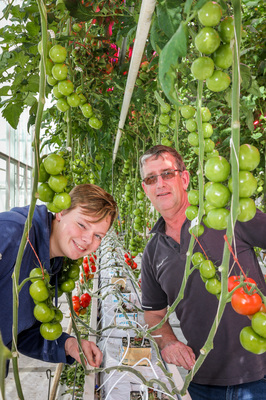 By Brendan Rees
High school students from across the south east got a glimpse of how growing tomatoes using energy-smart technology could become the way of the future in feeding Australia.
With exams on the horizon, Cranbourne Chisholm TAFE in partnership with the Australian and Traineeship Employment Partners, threw opened its doors to students for an Environmental Careers Day on Wednesday August 8.
More than 30 school students took part in hands-on workshops including propagation, paving, and landscaping.
They also toured Australia's only greenhouse hydroponic centre to gain an understanding of how our tomato crops were grown using Philips lights and chemistry principals.
Nursery and Garden Industry Victoria (NGIV) staff also offered advice to students on career opportunities.
Senior Educator of Horticulture at Chisholm TAFE James Davies said the aim of the day was to encourage students to consider a future career in the high-tech production of horticulture.
"The horticulture courses at Chisholm form a pathway to apprentice programs and employment," he said.
Nursery Industry Policy and Technical Manager of NGIV David Reid said horticulture was a rewarding field of study.
"The industry is experiencing a shortage of people with a good knowledge of and passion for plants that can fill the many positions available," he said.
"Whether you want to work in a production nursery growing the trees that will cool our cities in a changing climate, or spend your time working with microscopes and tissue cultured plants, horticultural study will get you there, as well as providing you with the foundational knowledge for a diverse range of both academic and the more practical career options.
"When that opportunity comes you can make a choice on which direction you might like to go for a career, the decision will be that much easier if you have taken the time to understand or even experienced what opportunities are out there first hand," Mr Reid said.
He said the NGIV placed a high importance on horticultural education opportunities and "we will offer what support we can to those students that have a made learning about plants a part of their future."
The open day comes after the State Government announced key TAFE and pre-apprenticeship courses including Certificates II and III in Horticulture would be made free from 2019.