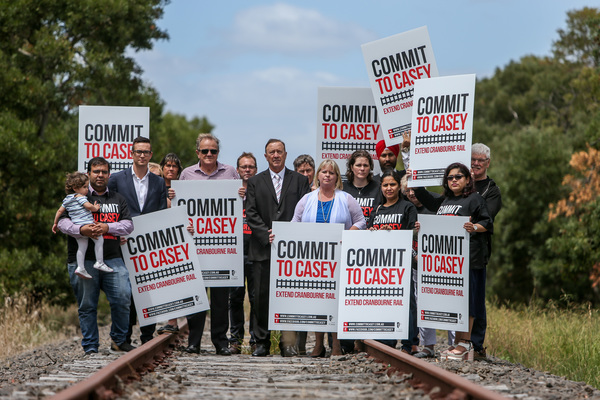 Casey council has warmly welcomed a State Opposition pledge to 'Commit to Casey', promising to extend the Cranbourne Rail line to Clyde.
Opposition Leader Matthew Guy visited Cranbourne Railway Station on Wednesday 11 July for the announcement, saying a Liberal Nationals Government would build five kilometres of electrified double line from Cranbourne to Cranbourne East and terminating at Clyde at a cost of $487 million – if they win government at the November election.
Construction would start in 2019 and new stations would be built at Cranbourne East and Clyde along with 350 additional parking spaces.
"We're overjoyed Council's 'Commit to Casey' community advocacy campaign has been successful in securing Opposition support," Cr Ablett said.
"This half a billion-dollar commitment makes our 'Commit to Casey' campaign the most successful by any local government and will help us achieve our goal of creating Australia's most liveable city."
Cr Ablett thanked the community and his fellow Councillors for sending a strong message to both political parties which could not be ignored.
"Thousands of Casey residents have sent emails to local politicians and candidates, put up yard signs and mailed postcards demanding both sides of politics 'Commit to Casey', fix our roads and extend Cranbourne Rail."
Cr Ablett said with the announcement, the Opposition had effectively laid down the challenge to the Premier. "The campaign isn't over yet and we won't rest until Premier Daniel Andrews matches the Opposition's promise and 'Commits to Casey'."
Council launched the 'Commit to Casey' campaign in January creating a groundswell of community support to convince both sides of politics to invest up to $2.7 billion in road and rail infrastructure.
Cr Ablett said successive governments had failed to build the transport infrastructure Casey's fast-growing communities desperately need.
The 'Commit to Casey' campaign is seeking six key road projects and the duplication of the Cranbourne Railway line from Dandenong to Cranbourne and extension of the line to Clyde in the next term of government.
In the May State Budget, the Andrews' Government announced funding for one of the road projects – the duplication of Narre Warren – Cranbourne Road between Thompson's Road and the South Gippsland Highway.