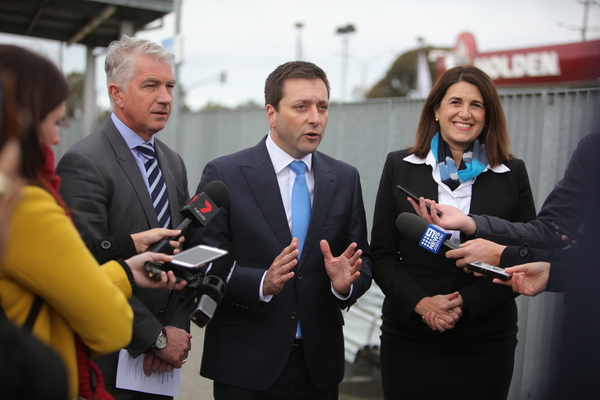 By Brendan Rees
An extension of the Cranbourne rail line to Clyde would be in place by the end of 2022 if the Liberals win this year's State Election, opposition leader Matthew Guy has promised.
Mr Guy visited Cranbourne Railway Station on Wednesday 11 July for the announcement, saying a Liberal Nationals Government would build five kilometres of electrified double line from Cranbourne to Cranbourne East and terminating at Clyde at a cost of $487 million.
Construction is expected to start in 2019. As part of the project, new stations would be built at Cranbourne East and Clyde along with 350 additional parking spaces.
In the last year, the combined population of Cranbourne East and Clyde grew by 7,300 people, say the Liberals.
"We need to ease the population squeeze which is why I am so focused on planning for population growth so every Victorian can enjoy living in their communities," Mr Guy said.
He said the rail extension would be built with no new level crossings, adding key intersections at the South Gippsland Highway, Narre Warren-Cranbourne Road, Broad Oak Drive and Berwick-Cranbourne Road will be grade-separated.
Local bus services will also be improved to connect commuters to the new railway stations at Cranbourne East and Clyde.
Member for Bass, Brian Paynter said "Clyde is experiencing massive population growth and we need to make sure that when it comes to infrastructure we aren't playing catch up but rather getting ahead."
Liberal Candidate for Cranbourne, Ann-Marie Hermans said the rail extension would be a "huge boost" to residents in Cranbourne East and Clyde.
"I am going to keep working with community leaders to deliver more for our local community because Labor has been taking this area for granted for too long and we need more investment," she said.
Acting Premier James Merlino said the Liberals could not be trusted when it came to public transport.
"The Liberals have form with these announcements – when last in Government they promised to build Doncaster Rail and then did nothing, they also promised a rail line to Avalon airport and that never happened either," he said.
The State Government is currently spending $15 billion on the Cranbourne line, which includes funding planning work for the duplication of the Cranbourne line.
The extension of the rail network to Clyde has also been one of Casey Council's wish list projects under its 'Commit to Casey' slogan.
City of Casey Mayor Geoff Ablett said earlier this year: "Fixing roads and extending rail will create jobs, improve access to essential services, ease cost of living pressures and help the local community and economy thrive."
The Liberals have also said future upgrades to the Cranbourne line will be essential, including the full duplication from Cranbourne to Dandenong, and a future extension to Koo Wee Rup.