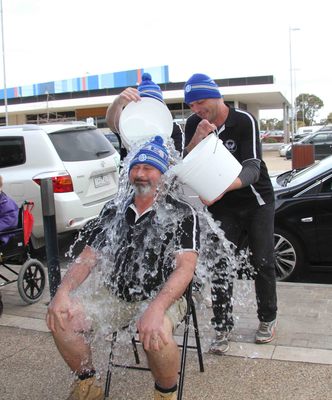 By Brendan Rees
Being a butcher, Brian Rollason is used to cool-room temperatures but that was nothing compared to when he was showered in buckets of ice-cold water.
The owner of Brian's Gourmet Meats in Lyndhurst was motivated to raise money for Motor Neurone Disease (MND) after his cousin was diagnosed late last year.
Brian and his wife, Angela organised a fundraising event on Saturday 16 June by hosting a sausage sizzle at their store, which raised close to $1,050 for MND research.
Angela said the response to the event was amazing.
"It was a really good turnout, with lots of community people from Cranbourne and Lyndhurst," she said.
She said about 200 sausages were sold in just an hour and a half, with people also donating $20 notes in a collection tin.
The community watched on as staff members tipped 20 litres of water mixed with bags of ice over Brian as he sat on a chair outside the store.
"We made him sit a chair; he wanted to stand and we said 'No,'" said Angela.
"He just said yep, 'That's bloody cold," she added after the ice bucket challenge.
"We brought him a change of clothes; we were worried he was going to pass out because the day was cold enough as it was."
Overall, Angela said they were wrapped with the outcome of the day.
"We had the tin up all week on the counter as well. The great community spirit was awesome."