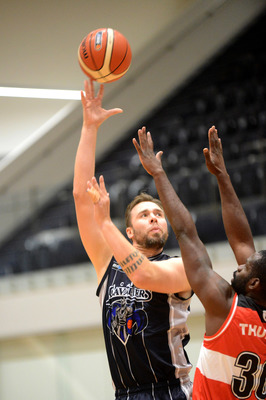 By Hayley Wildes
The Casey Cavaliers are building nicely as Big V basketball nears the business end of the regular season.
The State Championship Men scored a crucial win on the road against Knox on Sunday. A strong first half set up the win as Casey claimed an 80-90 victory.
Matt Donlan (26 points) and Brent Hobba (20 points) combined for nine triples as the Cavs shot the lights out, denying the Raiders any chances of a comeback.
Raheem Lemons (21 points, 14 rebounds) and Ben Louis (12 points, 9 assists, 6 rebounds) were also brilliant in a confidence-building win. The Cavs currently sit seventh on the ladder, with an 8-6 record.
The Division 1 Women continued their incredible form and are riding a seven-game winning streak after taking care of Camberwell, 61-50, at home on Sunday.
Casey won every quarter and were led by the usual suspects of Tanarly Hood (23 points, 9 rebounds, 3 assists, 3 steals), Jamie-Lee Jeffs (13 points, 13 rebounds, 3 assists) and Tarryn Wilkin (12 rebounds, 9 points).
The Cavs sit second on the ladder with a 13-2 record.
The Youth League 1 Men took it right up to the undefeated Sunbury Jets, but ultimately fell, 70-73.
Casey didn't take a backwards step as Oyiti Amum (17 points, 10 rebounds) and Jordan Gooiker (19 points) led the scoring, but it wasn't enough as Sunbury got solid contributions across the board.
Heading up to Bendigo a day later, they were unable to even the ledger for the weekend, dropping to their sixth straight defeat.
The Braves were simply dominant and the Cavs' offence stalled, falling 88-63. Corey Roos (14 points) and Alex Bazzucchini (10 rebounds, 8 points) were lone hands for the Cavs.
Casey sit ninth on the ladder, slumping to 5-10 for the season.
The Youth League 2 Women remain undefeated after making light work of Frankston at home on Saturday night.
Rebecca Peacock (19 points, 8 rebounds), Rebecca Jones (17 points, 4 steals) were standouts in the 70-59 win.
With an imposing 12-0 record, the Cavs sit three games clear on top.
This weekend sees a massive State Championship Men and Division 1 Women double-header tip off from 6pm at Casey Stadium on Saturday. Both teams then hit the road on Sunday, with the men taking on Eltham and the women facing Western Port.
The Youth League 2 Women face Southern Peninsula Sharks on Saturday evening on the road, while the Youth League 1 Men travel to Warrandyte on Saturday night, before returning home on Sunday afternoon to face Coburg.