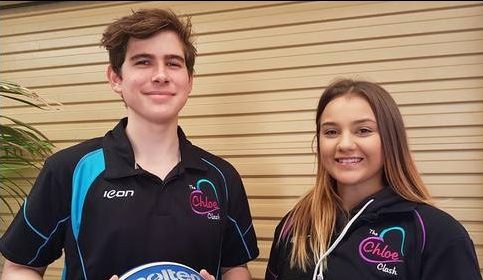 By Nick Creely
It's going to be a game worth watching, 24 hours of continuous competitive action not seen before in this region.
And all for an extremely good cause.
The first ever 'Chloe Clash' will be held at the Casey Basketball Stadium from 12pm on Friday, 6 July to 12pm Saturday, 7 July, all with the aim of raising funds for The Royal Children's Hospital.
Chloe Myors, 11 at the time, collapsed in her classroom at Hillsmeade Primary School on 14 May 2012, and passed away the next day after being airlifted to The Royal Children's Hospital. Chloe died from an arteriovenous malformation (AVM) in her brain, which is an abnormal connection between the arteries and veins.
Chloe was one of 11 children under the age of 16 across Australasia to donate her organs in 2012, subsequently changing the lives of five children, their families and their communities.
Always a keen netballer playing at both domestic and representative levels, the idea came after Chloe's father Ian and her younger brother Ben attended an Annual Memorial Day at the Royal Children's Hospital, remembering children who have passed away at the hospital.
"Through Chloe's love of netball and Ben's love of basketball, the idea of playing a combined game of netball/basketball was formed," Ian said.
"Ben then contacted one of Chloe's best friends, Shaylee Hearn, and they trialled the game with a group of friends last September. It was a success."
"At the start of 2018 we decided to move forward with Ben's game and we formed 'The Chloe Clash' with the aim of raising money for The Royal Children's Hospital."
Ian said that without the help of sponsors and the community, it wouldn't be possible to go ahead with the idea, and urges everyone to get behind what will be a special day.
"We would like to thank our sponsors, Total Force Maintenance, Casey Basketball Stadium, Icon Sports and the former Chloe Foundation, who without their help this event would still only be an idea," he said.
The Chloe Foundation – which was formed by the family in 2014 – aimed to support families that have lost donor children, raising awareness and financial support, but is no longer in operation.
"All donations need to go directly though our Everyday Hero link to The Royal Children's Hospital. Everyone is welcome to come and watch on the day with a gold coin donation entry," Ian said.
If you require any more information, you can email Ian Myors on chloeclash2018@gmail.com, or if you would like to donate, visit give.everydayhero.com/au/chloe-clash