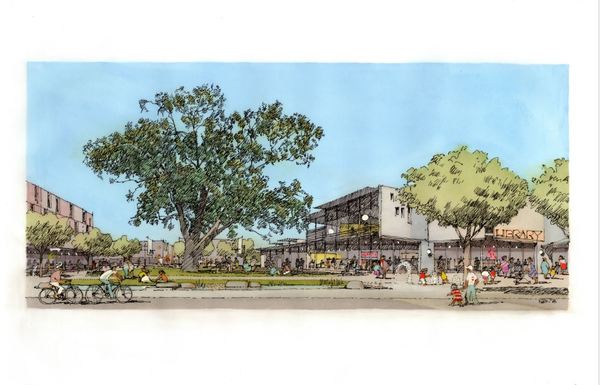 By Cam Lucadou-Wells
A draft for central Hampton Park's radical transformation – included a long-mooted 'main street' – has been tabled.
The as-yet unfunded vision includes a $27 million community hub with a new community hall, library, offices and family and childrens centre.
The council plan, tabled at a 5 June meeting, also includes a landscaped east-west main street between the community hub and retail precinct.
The 1.4-hectare precinct – to be branded Hampton Park Central – will be designed to be a pedestrian-friendly village, including an outdoor dining mall.
Other features include outdoor water-play, a stormwater garden, a games area, public artwork and a town square retaining a significant river gum tree.
In the commercial precinct, up to six-storey height limits will be proposed along Hallam Road.
The plan is still under negotiation with significant stakeholders Hampton Park Progress Association and Hampton Park Community Centre.
The progress association had co-funded the 24-year-old Arthur Wren Hall, which will be demolished to make way for the community hub.
The Hampton Park Community Centre will be demolished for car parking.
Since the start of negotiations, Casey Council affirmed that the community centre, the progress association and the hall will be housed in the community hub.
The council has pledged that the new hall will retain the Arthur Wren name, and allocated space allocated for an art mural and Anzac memorial in the town square.
Councillor Wayne Smith assured the groups that "we won't lose anything that we've got".
"The aim is to have room for more.
"I'm confident everyone will come out happy because it's a great thing for the community."
Cr Smith expected the hub to be built within five years, depending on the flow of state and federal contributions.
The 'main street' – with a grid of north-south streets – would fix a precinct that had developed in a "mish-mash method".
For full realisation, several private landowners in the retail district needed to "come on board", Cr Smith said.
"We've been wanting to do it for a long time.
"We will fix the bits we can fix and hope that will have a flow-on effect for the shopping centre.
"If it leads to nothing else, it will open up the area."
Councillor Damien Rosario said the "revitalised" precinct would activate shops along the 'main street'.
He hoped Casey could work with private landowners to "realise the dream together".
The progress association and the community centre declined to comment.
The community precinct masterplan and central development plan are on public exhibition at casey.vic.gov.au.