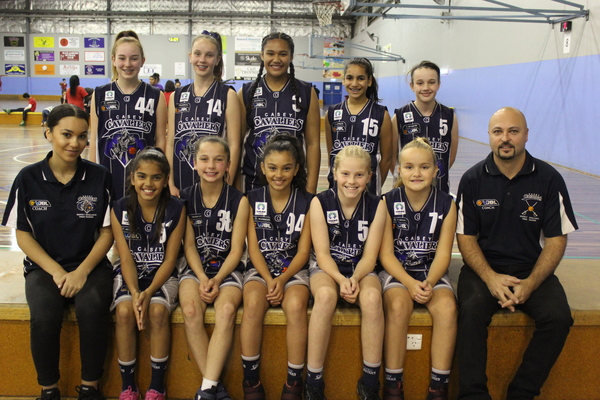 By Russell Bennett
The Casey Cavaliers' under-12 girls basketball team has made history as the first group of girls from the association ever to be invited to participate in the prestigious National Junior Classic, held this Queen's Birthday weekend.
The event is a Melbourne United Victorian Junior Basketball League (MUVJBL) tournament that accepts the top eight teams in each age group from Victoria, as well as an additional eight interstate teams.
Essentially, invited teams are considered to be the best teams in their age groups across the country.
The future is looking incredibly bright at the Cavaliers, with a host of other teams from the association following suit and also entering into the higher ranks of the MUVJBL competition.
Leah Cornell and Emilija Dakic can't wait for this weekend's tournament, as two key components of the Casey side.
They and their team mates are eager to show what they're made of on the big stage.
"We've really been working as a team – it's not just one person doing everything," Leah explained.
Emilija added that the particularly tight-knit group was constantly working on improving its weaknesses under the watchful eyes of head coach and assistant coach Michael and Ashlea Feldman.
Both girls said their coach Michael encourages them to be the best they can be, and that Ashlea knows how hard it is to play at a high level having played so recently.
They both love representing the Cavaliers, and for their coaches.
"Michael is trying to make us the best basketballers we can be," Emilija added.
Leah said the enormity of the side's achievement in making the tournament had just started to fully sink in.
"You go against teams from different states so making the Classic means we're one of the best teams in the country," she said.
"We might not make it next time. Next season we might not be at this level again, (so) we'll appreciate it more because we actually did make it, and not many do."
For his part, as coach of the team, Michael acknowledged that he "probably underestimated" the magnitude of what his side had accomplished so far, and added he can't wait for the girls to show what they can do at the tournament.
"I think we can be very competitive over the weekend, so I'm really excited about that and really excited to see the girls perform," he said.
"If the girls bring their A game, we'll be very competitive."
Michael said his group never ceases to amaze him.
"They surprise me nearly every week with their understanding of the game," he said.
"They understand where to be and what to do. I tell them a set play and they go out and do it.
"This bunch of girls just all want to be there. They all come together as a team and want to learn so it makes my job a lot easier when they want to do that.
"They've been amazing, and the way they've been able to adapt to me has been fantastic.
"I think sometimes we underestimate these girls – they'll be going home, studying the games and what they've been doing, and some of them really get upset with themselves when they make little mistakes. They go back and think about how they can improve, and that's a real bonus for these girls because at that age group it's such a great quality to have."
The Casey under-12 girls have been drawn in Group C alongside the Forestville Eagles, Frankston, and Canberra.
Melbourne United Victorian Junior Basketball League general manager John Hilton said the 2018 National Junior Classic will raise the bar yet again as the best 128 sides descend on Melbourne for the high-calibre contest.
"It's great to see teams from across Victoria and Australia getting ready for this year's National Junior Classic," he said.
"For the best teams across Victoria, the Classic is the perfect opportunity for our own to showcase their talents in an elite tournament environment."
The invitation-only event is capped at 16 teams per age group.