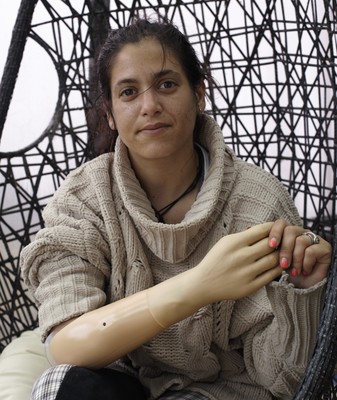 By Brendan Rees
Despite her personal hardships and challenges, Roxanne Baz is determined to remain unbroken.
The 28-year-old of Cranbourne North went through a dark period in her life during which she overdosed on drugs and passed out near a ceramic heater. By the time she woke up her arm had been burnt.
She barely survived the experience and had to have her arm amputated but it did force her to re-evaluate her life: she is now completely drug free and pursuing a place on the Paralympic Equestrian Team.
Today, Roxanne is participating in a unique and empowering body art/documentary project called 'Unbroken'.
She is one of six Victorians who will reflect on their individual truth, resilience and purpose, in art and in life through the project which celebrates Australians who have found greater strength within themselves following personal hardship or challenge.
"I decided to do it because I wanted to help someone else who has gone through something similar," Roxanne says.
"I started hanging out with the wrong people. My life fell apart and I ended up homeless.
"If I can show someone that it's not really about what you look like, it's about who you are as a person and what you can accomplish – that's what makes you beautiful.
"I think it will help in my recovery and hopefully help others," she said.
In "Unbroken" the participants are documented and share their stories through the body painting process and their artistic expression.
The project is inspired by Kintsugi, a Japanese art form that uses gold to enhance broken ceramic in a way that accentuates the cracks, a symbol of the beauty to be found in imperfection and change.
Roxanne says she hopes to inspire people with the knowledge that there is always hope, and that beauty can be found in imperfection and impermanence.
"I've suffered a lot of body image problems my whole life," says Roxanne. "I'm anxious but at the same time I feel like it's not only going to give me strength but hopefully it will give other people strength."