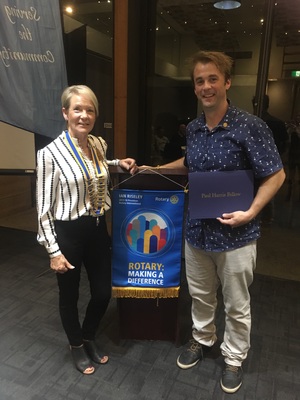 By Brendan Rees
Jake Ward is one man who refuses to give up.
Despite running thousands of gruelling kilometres in recent years, he never lost sight of the bigger picture he had in mind which was raising money for the National Breast Cancer Foundation.
In recognition for his efforts, the 33-year-old Cranbourne resident received the Paul Harris Fellow award at the Cranbourne Rotary Club on Tuesday, 8 May.
Mr Ward, who lost his cousin and aunt to the disease, is the first person to receive the award as a non-Rotarian in 25 years.
"It's very mind blowing, I'm very honoured," said Mr Ward, who has helped raise more than $100,000 for the foundation.
"I never ran for awards, I ran to raise awareness and raise much-needed funds," he said.
"It was definitely a team effort because it takes the generosity of people to put their hand into their pockets to help me out."
Mr Ward pushed his body to the limit in a series of three fundraiser runs. The first was a 100km run in 2013; the second, a 1000km run from the Sydney Opera house to Cranbourne and the third, a whopping 1500km run from Queensland to Cranbourne in 2016.
After completing his last run, Mr Ward proposed to his then girlfriend, Jess, before marrying her in January this year.
Even though he is now battling hip troubles, looking back, Mr Ward says "It was all worth it."
"If I was tired I could walk, if I wanted a break I could have a break. But people that are battling the sickness, they don't get to pick and choose when they can deal with it."
"I'm just an average person. It was more just to show people that anyone could really, really make a big impact," he said.
"I just keeping thinking of people that are actually battling through cancer – they're going through a lot more pain."
Cranbourne Rotary Club president Kathy Dunscombe said Mr Ward was a "committed young man" and deserved recipient of the award.
"As he was running his hips were going but he just didn't give in. He's just a very determined young man, who wanted to achieve something very worthwhile," she said.