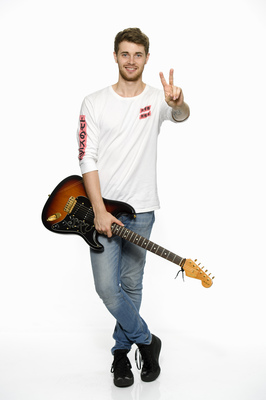 By Brendan Rees
Jake Nicholls admits he never saw himself singing at a young age.
While he always had a passion for music, Jake says he didn't think about singing until he formed a band during his senior years in high school.
"We couldn't find a singer so I thought I'd try it out," he says. "It was pretty bad at the start. I got lessons and continued to work on it and improve."
Now the 24 year-old singer-guitarist hopes to take his music to a national level.
The former Cranbourne East resident auditioned for the television talent contest The Voice on Monday evening, 16 April, singing James Arthur's You're Nobody Til Somebody Loves You.
"When you're standing behind the doors about to walk onto the stage it's pretty crazy," says Jake.
"Usually you can hear the crowd and you're ready to get on but this one everyone is dead silent. It's an awesome experience."
During the blind audition round, The Voice hopefuls perform for four coaches who sit with their backs to the stage.
The coach chooses to spin their chair around if they want the performer for their team. All four coaches turned around for Jake.
With a passion for soul and RnB, Jake chose to join Kelly Rowland's team.
"As soon as I started probably three seconds in Jo Jonas turned so that relaxed me straight away," he said.
"I was able to enjoy the rest of the performance – luckily enough more turned around."
Jake's been no stranger to reality singing contests. At 17, he performed on television's talent show X-Factor and made it through to the top 100.
"I just didn't want to go on a reality TV show after that. I just spent a few years just trying to do stuff myself," he said.
A Melbourne gigging professional for the last seven years, Jake has had enough of performing at pubs where no one is listening.
He wants to take his live experience from the pub scene and make a career out of music on a larger stage where his love of music can reach millions.
He can see himself touring stadiums in the future and the four chair turn cements in his mind that he is one step closer to achieving that dream.