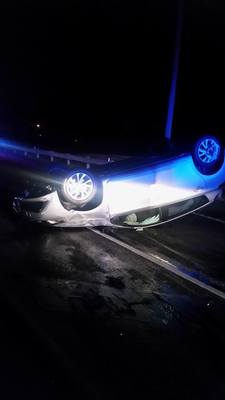 By Brendan Rees
Pearcedale fire brigade responded to a collision last Saturday night, 3 March whereby a car landed on its roof in Langwarrin South.
The car was travelling south along the Westernport Highway between Robinsons Road and North Road at about 11.20pm.
A woman in her 30s managed to walk away with only some grazes after her car hit a roadside barrier and overturned.
A police spokeswoman said "They've collided with water barriers on the side of the side road which is then made the car launch into the air, land on its roof and that's when it's connected with those permanent concrete barriers, slide down them and stopped in the middle of the road."
It's believed the driver was tired at the time of the collision.
An ambulance spokesman said the woman was treated at the scene and suffered grazes and a sore shoulder.
Pearcedale CFA Second Lieutenant Chris Judd said the driver had a lucky escape.
"It was good to see her walk out of the vehicle. She was a bit shaken up. A couple of the locals that live around that area helped her out of the car."
"She was out of the vehicle when we got there; made sure everything was safe," he said.
"She was fine. She had a bit of trouble with the oncoming lights. Because of the road works there the road goes off a little bit," he said.
Mr Judd said there was some damage to the car.
Works are currently underway on the Western Port Highway and Robinsons Road intersection in Langwarrin South in which temporary concrete barriers have been installed.
Minister for Roads and Road Safety Luke Donnellan announced on Tuesday, 27 February that works had started on the $6.2 million upgrade to build a new two-lane roundabout.
The upgrade, which is due to be completed mid-2018, will boost safety for drivers and improve traffic flow, he said.