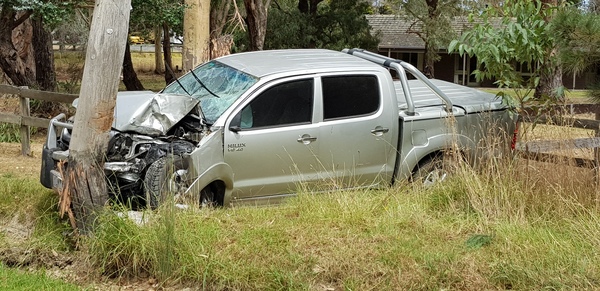 By Brendan Rees
A man was lucky to walk away unharmed after his four wheel drive collided with a power pole in Cranbourne South on Tuesday, 6 March.
The car was travelling south along Maywood Road which is a gravel road between North Road and Scott Road at about 12.05pm.
Pearcedale fire brigade member Robyn Murphy said she was first on scene and found the driver out of the car, talking on his phone.
She said the car was wedged between a roadside property and the power pole, which had splintered.
"He hit it at the corner (of the pole) and spun around on that," she said. "The car was facing perpendicular to the road. He was lucky.
"The first thing I did was make sure that everyone was out of the car and no one was extremely hurt," Ms Murphy said.
"He (driver) had already grabbed his stuff out of the car and he was heading to the property two doors down."
She said the driver says he had "hit the breaks to swerve around a rabbit and lost control and ended up hitting a post."
Pearcedale and Langwarrin CFA fire crews also attended the incident.
"We really didn't do much. All we could do was make sure that the appropriate services were called," Ms Murphy said.
She said the public were kept at bay as the pole was unstable while they waited for the power company to arrive.
Ambulance and police were contacted but were unable to provide any details of the incident.