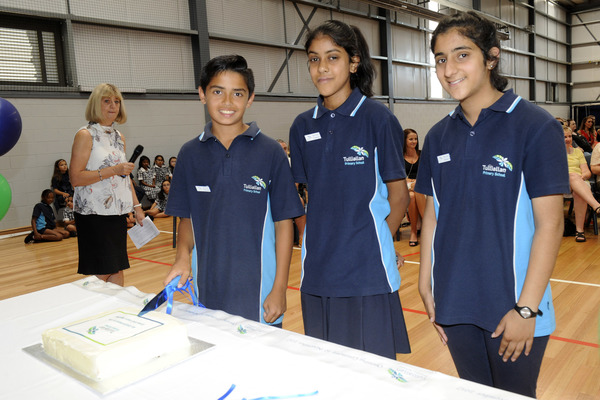 By Brendan Rees
Pupils, staff and special guests marked the official opening of Tulliallan Primary School in Cranbourne North with a celebratory assembly and a cake.
Tulliallan Primary School Events co-ordinator Fiona Milo said the opening ceremony on Thursday 30 November was "fantastic."
She said the school captains and representatives from each of Tulliallan's learning community spoke about 'What Tulliallan means to me.'
"All of the students' writing pieces were displayed in the stadium. Then students presented a number of items (using) USBs with photos, student work, our first year book, the Herald Sun, a school timetable, that are going to be sealed into a time capsule. This capsule will be opened when our inaugural Prep students graduate from Year 6."
Representatives from the school council, Education Department, local kindergartens, Public Private Partnerships and parents attended the official opening where a commemorative ribbon was cut to mark the occasion.
Tulliallan Primary was one of 10 new schools to open across the state in January this year as part of the State Government's record investment in education to meet surging growth.
The school has state-of-the-art sporting facilities such as a competition-grade gym, and two basketball courts.
Another feature is a YMCA-operated Early Learning Centre to facilitate the transition between early childhood learning and primary school.
"It's definitely a great opportunity for students – great facilities, dedicated staff and amazing students. Excellence, respect and community are our key focuses here at Tulliallan," Ms Milo said.
Tulliallan Primary principal Kathy Sharp said: "We will grow great kids to be great people. The school's name has historical connections to the pastoral land where it is built, to the 'Shearers Cottage' and the 'Avenue of Elms.'"
Member for Cranbourne Jude Perera said the school would not only offer an outstanding learning environment, but would also act as a hub for local community groups.
Minister for Education James Merlino said the south eastern suburbs were booming, and the State Government was investing in infrastructure support growing enrolments.
"(We're) creating bright futures for our kids and ensuring they get the education they need in the facilities they deserve," he said.